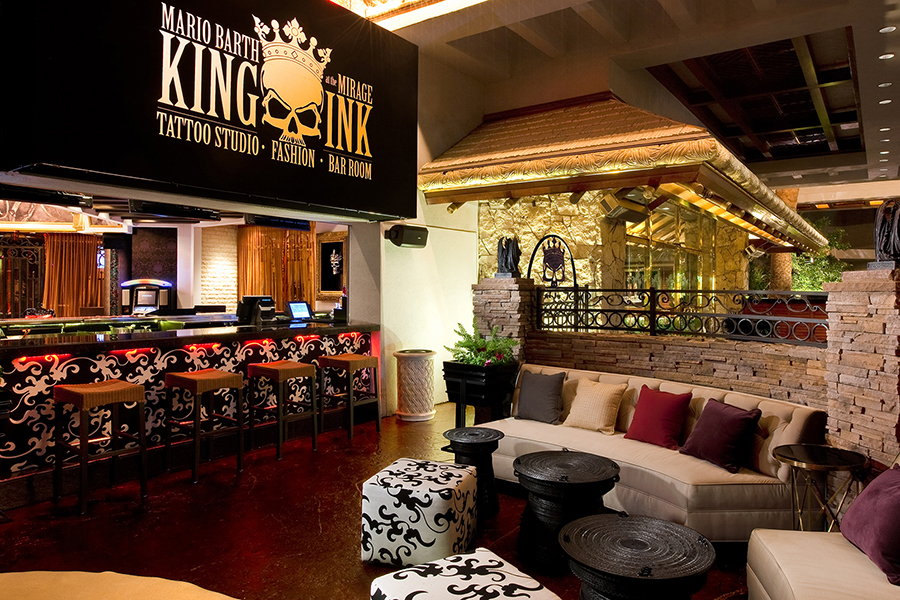 UPDATE: NOW PERMANENTLY CLOSED.
Profile: King Ink at The Mirage, Las Vegas
Overview King Ink is a renowned tattoo studio and art gallery located at The Mirage in Las Vegas. Founded by world-famous tattoo artist Mario Barth, King Ink offers an unparalleled experience for tattoo enthusiasts and art lovers alike. With its innovative blend of tattooing, live entertainment, and contemporary art, King Ink has become a must-visit destination on the Las Vegas Strip.
Location and Address King Ink at The Mirage is situated within the vibrant confines of The Mirage Resort and Casino. The address is as follows:
King Ink at The Mirage 3400 S Las Vegas Blvd Las Vegas, NV 89109 United States
Hours of Operation The studio's operating hours are as follows:
Monday to Thursday: 11:00 AM – 9:00 PM
Friday and Saturday: 11:00 AM – 10:00 PM
Sunday: 11:00 AM – 7:00 PM
Please note that these hours are subject to change, and it's always advisable to check with the studio or visit their website for the most up-to-date information.
Contact Information For inquiries or to schedule an appointment, you can reach King Ink at The Mirage using the following contact information:
Tattoo Highlights King Ink is renowned for its team of talented tattoo artists who specialize in various styles and techniques. Some notable highlights of the tattoo offerings at King Ink include:
Realism and Portraits: The studio boasts exceptional artists skilled in creating hyper-realistic portraits and lifelike representations of people and animals.
Black and Gray: King Ink's artists excel in the art of black and gray tattoos, utilizing shades of gray and black ink to produce stunning, intricate designs.
Traditional and Neo-Traditional: For those seeking a classic and timeless tattoo style, King Ink offers expert artists who can deliver traditional designs with bold lines, bright colors, and iconic imagery. They also offer a modern twist on traditional tattoos with the neo-traditional style, incorporating vibrant colors and more intricate details.
Japanese and Oriental: King Ink has a team of artists skilled in Japanese and Oriental tattooing, drawing inspiration from traditional Japanese art, such as koi fish, dragons, geishas, and cherry blossoms.
Lettering and Typography: Whether you're looking for a meaningful quote, a name, or a unique lettering design, King Ink's artists can create beautiful and personalized typography tattoos.
Additional Amenities and Offerings Beyond tattooing, King Ink at The Mirage offers a range of additional amenities and offerings to enhance the overall experience:
Art Gallery: The studio features an art gallery that showcases works by renowned artists, both tattoo-related and from other artistic disciplines. Visitors can immerse themselves in a curated collection of contemporary art.
Live Entertainment: King Ink frequently hosts live entertainment events, including performances by musicians, DJs, and other artists. These events create a dynamic and vibrant atmosphere for guests to enjoy.
Piercing Services: In addition to tattooing, King Ink provides professional piercing services. Experienced piercers use high-quality materials and follow strict safety and hygiene standards.
Retail Shop: The studio features a retail shop where visitors can purchase merchandise, including apparel, accessories, and art prints, to commemorate their visit to King Ink.
Private Tattoo Suites: King Ink offers private tattoo suites for clients who prefer a more exclusive and intimate experience. These suites provide privacy and comfort while getting tattooed.
Conclusion King Ink at The Mirage is a world-class tattoo studio and art gallery, bringing together the realms of tattooing, contemporary art, and live entertainment. With its exceptional tattoo artists, diverse styles, and additional amenities, King Ink offers an unforgettable experience for tattoo enthusiasts and art lovers visiting Las Vegas.