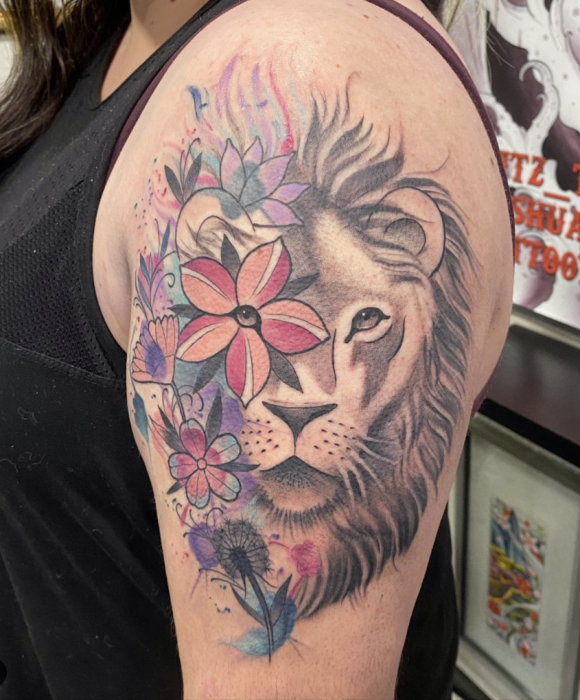 Studio 21 Tattoo Gallery: A Premier Tattoo Destination in Las Vegas
As of 7/11/2023 they are rated 5 stars on Google with 482 reviews.
Overview: Studio 21 Tattoo Gallery is a renowned tattoo studio located in the heart of Las Vegas, Nevada. With a team of exceptionally talented artists and a commitment to providing top-notch service, Studio 21 Tattoo Gallery has established itself as one of the premier tattoo destinations in the city. Since its establishment, the studio has gained a stellar reputation for its artistic excellence, commitment to safety and hygiene, and dedication to creating custom tattoo designs that reflect the unique personalities and visions of its clients.
Address: Studio 21 Tattoo Gallery is conveniently located at: 6020 W Flamingo Rd Las Vegas, NV 89103
Hours of Operation: The studio operates with the following schedule:
Monday: Closed
Tuesday: 12:00 PM – 8:00 PM
Wednesday: 12:00 PM – 8:00 PM
Thursday: 12:00 PM – 8:00 PM
Friday: 12:00 PM – 8:00 PM
Saturday: 12:00 PM – 8:00 PM
Sunday: 12:00 PM – 6:00 PM
Contact Information: To reach out to Studio 21 Tattoo Gallery, you can use the following methods:
Tattoo Highlights: Studio 21 Tattoo Gallery is known for its diverse range of tattoo styles and exceptional artistry. The talented team of artists at the studio excels in various tattoo genres, including but not limited to:
Realism: The artists at Studio 21 Tattoo Gallery have a mastery of creating realistic tattoos, capturing intricate details and lifelike representations. Whether it's a portrait, animal, or object, they can bring any subject to life on your skin.
Traditional: Embracing the classic roots of tattooing, the studio offers stunning traditional tattoos. With bold outlines, vibrant colors, and timeless designs, the artists can create traditional tattoos that pay homage to the rich history of this style.
Black and Gray: Studio 21 Tattoo Gallery is renowned for its black and gray tattoo work. The artists utilize varying shades of gray to create depth, texture, and stunning visual effects, resulting in captivating and visually striking pieces.
Colorful and Neo-Traditional: For those seeking vibrant and eye-catching tattoos, Studio 21 Tattoo Gallery specializes in creating colorful and neo-traditional pieces. Combining the classic elements of traditional tattooing with vibrant color palettes and modern techniques, these tattoos stand out with their dynamic and bold appearance.
Custom Designs: The artists at Studio 21 Tattoo Gallery take great pride in their ability to bring clients' unique ideas to life. They work closely with each individual, offering personalized consultations to understand their vision and preferences. This collaborative approach ensures that every tattoo created at the studio is a one-of-a-kind masterpiece.
The Studio Experience: Studio 21 Tattoo Gallery provides a clean, comfortable, and welcoming environment for all its clients. The studio is equipped with state-of-the-art tattooing equipment and follows strict hygiene protocols to ensure the safety and well-being of both artists and clients.
The artists at Studio 21 Tattoo Gallery prioritize open communication with their clients. From the initial consultation to the final tattooing process, they actively listen to clients' ideas, provide expert advice, and collaborate to create a tattoo that surpasses expectations.
Whether you are a first-time tattoo enthusiast or a seasoned collector, the artists at Studio 21 Tattoo Gallery are dedicated to delivering a positive and memorable experience. They strive to make every visit to the studio an opportunity for artistic expression, creativity, and personal connection.
Conclusion: Studio 21 Tattoo Gallery is an exceptional tattoo studio in Las Vegas, offering a wide range of tattoo styles executed with precision and artistry. With a commitment to client satisfaction, the studio's talented artists create custom designs that bring clients' visions to life. With its dedication to hygiene, a comfortable environment, and a passion for creating outstanding tattoos, Studio 21 Tattoo Gallery has established itself as a go-to destination for tattoo enthusiasts in Las Vegas and beyond.