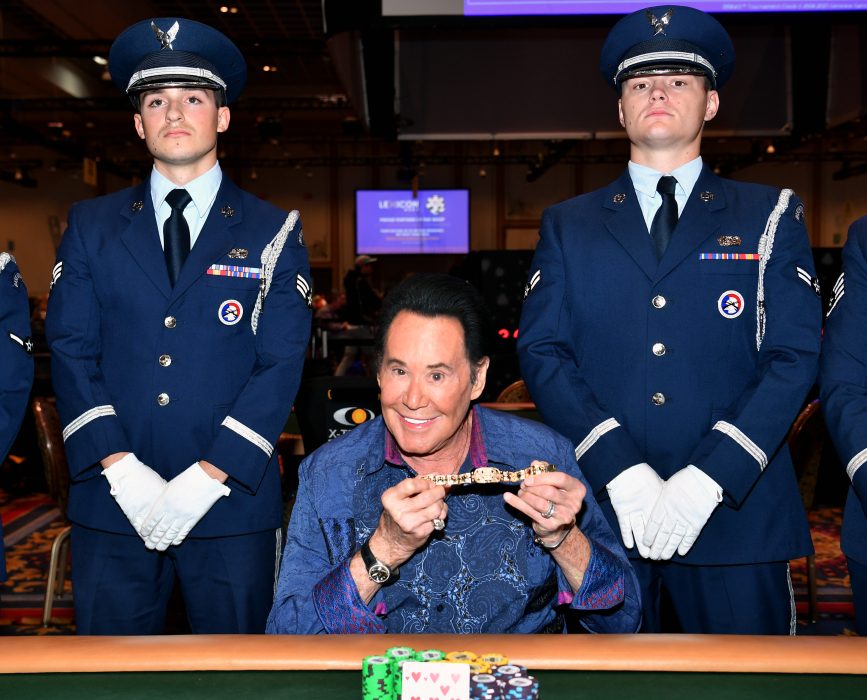 'Mr. Las Vegas' Wayne Newton Makes Special Appearance at 54th Annual World Series of Poker $500 Salute to Warriors – No-Limit Hold'em Event
LAS VEGAS (June 25, 2023) – The 54th annual World Series of Poker (WSOP®) is well underway and on track to break records. While the WSOP aims to make history, it remains steadfast in its mission to give back to the community. This year, the organization was honored to have Mr. Las Vegas himself, Wayne Newton, solidify himself in WSOP history by hosting the ceremonial Shuffle Up and Deal moment on Sunday, June 25 – kicking off the annual $500 Salute to Warriors – No-Limit Hold'em event.
"Year over year, we always look forward to our Salute to Warriors event," said WSOP Vice President, Jack Effel. "Giving back to the community is so important to the WSOP, and we are proud to present the USO with a $100,000 donation in Wayne Newton's name. His unwavering support of the troops is admirable, and we are honored to have Mr. Las Vegas at the WSOP to kick off this annual charitable event."
A longstanding supporter of military veterans, Newton proudly serves as the Chairman of the United Services Organizations (USO) Celebrity Circle and continues to travel the world to perform for our troops. Following a commemorative Color Guard presentation from Nellis Air Force Base and comments from USO Executive Director Tim Mullin, WSOP Vice President Jack Effel presented a $100,000 donation to the USO in Wayne Newton's name on behalf of the WSOP and Caesars Entertainment. The sound of chips then roared throughout the Paris Ballroom as Newton announced the iconic "Shuffle Up and Deal," kicking off the charitable $500 Salute to Warrior – No-Limit Hold'em event.
"Supporting our troops has always been a passion of mine, so this event holds a special place in my heart," said Newton. "I am proud to help kick off this event, and I am sure the veterans participating will make me proud. Thank you to the WSOP for their generous donation to the USO. Let's get ready to Shuffle up & Deal!"
Newton stars in 'Wayne: Up Close and Personal' at the Wayne Newton Theatre inside the Flamingo Hotel & Casino every Monday, Wednesday and Saturday. Fan can receive 20% off tickets using discount code WNWSOP online.
The full 2023 WSOP schedule, including a booking link for discounted participant hotel rates, can be found on WSOP.com. Players should follow @WSOP on Twitter or IG or check WSOP.com for event news and updates.
# # #
About World Series of Poker:
Part of Caesars Entertainment's Caesars Digital operations, the World Series of Poker® is the largest, richest and most prestigious gaming event in the world, having awarded more than $3.63 billion in prize money and the prestigious gold bracelet, globally recognized as the sport's top prize. Featuring a comprehensive slate of tournaments in every major poker variation, the WSOP is poker's longest-running tournament in the world, dating back to 1970. In 2022, the event attracted 197,626 entrants from over 100 different countries to the Paris Las Vegas and Horseshoe Las Vegas and awarded more than $347 million in prize money. In addition, the WSOP has formed groundbreaking alliances in broadcasting, digital media and corporate sponsorships, while successfully expanding the brand internationally with the advent of WSOP Europe in 2007 and the WSOP Asia-Pacific in 2013 and the WSOP International Circuit Series in 2015. All WSOP events are subject to the then-current and applicable WSOP tournament rules. For more information, please visit www.wsop.com.