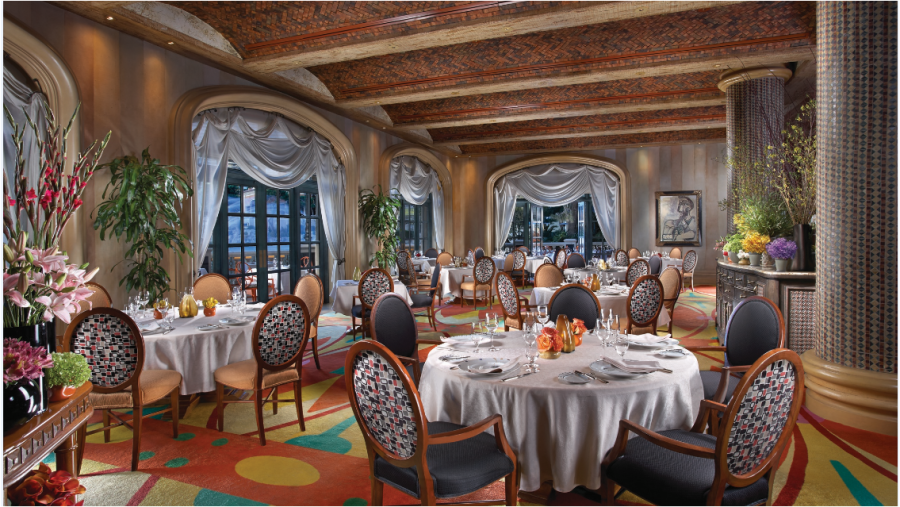 Picasso at Bellagio, Las Vegas: An Exquisite Culinary Masterpiece
Overview: Picasso at Bellagio is a world-renowned fine dining restaurant located within the luxurious Bellagio Resort and Casino in Las Vegas, Nevada. Named after the legendary Spanish artist Pablo Picasso, the restaurant is a true masterpiece in itself, offering an unforgettable gastronomic experience that combines art, elegance, and exceptional cuisine. With its stunning views of the Bellagio fountains and an opulent ambiance, Picasso has become a destination of choice for those seeking an unforgettable dining experience in Las Vegas.
Address: Picasso at Bellagio is located at: 3600 S Las Vegas Blvd, Las Vegas, NV 89109, United States
Contact Information: For reservations and inquiries, you can contact Picasso at Bellagio through the following channels: Phone: +1 (702) 693-8865 Website: https://bellagio.mgmresorts.com/en/restaurants/picasso.html
Hours of Operation: Note: It's always recommended to verify the current operating hours, as they may be subject to change due to seasonal adjustments or special events.
Monday: 5:30 PM – 9:30 PM
Tuesday: 5:30 PM – 9:30 PM
Wednesday: 5:30 PM – 9:30 PM
Thursday: 5:30 PM – 9:30 PM
Friday: 5:30 PM – 10:00 PM
Saturday: 5:30 PM – 10:00 PM
Sunday: 5:30 PM – 9:30 PM
The Culinary Artistry: Picasso at Bellagio proudly presents an exquisite menu curated by Executive Chef Julian Serrano, whose culinary creations are inspired by the artistry and innovation of the restaurant's namesake. The menu features a blend of French and Spanish influences, offering a symphony of flavors that tantalize the taste buds. The dishes at Picasso are expertly crafted using the finest and freshest ingredients, ensuring each plate is a work of art in itself.
Menu Highlights: Please note that the menu is subject to change to reflect seasonal ingredients and Chef Serrano's creativity.
Signature Dishes:

Pan-Seared Scallops with Saffron Sauce: Succulent scallops delicately seared to perfection, served with a luscious saffron-infused sauce that enhances the natural sweetness of the seafood.
Tournedos Rossini: An indulgent dish featuring tender filet mignon topped with foie gras and black truffles, accompanied by a rich Madeira demi-glace sauce.

Tasting Menus:

The Pre-Theater Menu: Ideal for guests attending shows or events, this menu offers a delightful selection of appetizers, entrees, and desserts that can be enjoyed within a shorter time frame.
Le Menu Degustation: A grand tasting experience that takes diners on a culinary journey through a series of exquisite dishes, carefully paired with wines selected by the restaurant's sommelier.

Degustation Art Dessert:

The dessert menu at Picasso is a celebration of sweet creativity, often featuring seasonal treats like the "Picasso's Degustation Art Dessert," a delightful platter of miniature desserts resembling tiny edible masterpieces.

Wine Selection:

Picasso boasts an extensive wine list, showcasing a diverse collection of wines from around the world. The sommelier is always on hand to offer expert guidance and pairings to enhance the dining experience.
Elegant Atmosphere: The interior of Picasso at Bellagio is an homage to its namesake, adorned with authentic Picasso artworks that create an ambiance of sophistication and refinement. The floor-to-ceiling windows offer breathtaking views of the Bellagio Fountains, adding a touch of magic to the dining experience. The restaurant's elegant décor, combined with impeccable service, creates an intimate setting ideal for special occasions or romantic dinners.
Conclusion: Picasso at Bellagio is more than just a restaurant; it is a celebration of culinary artistry and the legacy of one of the world's greatest artists. With its unparalleled menu, impeccable service, and stunning views, Picasso promises an extraordinary dining experience that will leave a lasting impression on every guest fortunate enough to experience its culinary masterpiece.
(For the most up-to-date details on Picasso at Bellagio, including the menu, hours of operation, and contact information, please refer to the official website or contact the restaurant directly.)