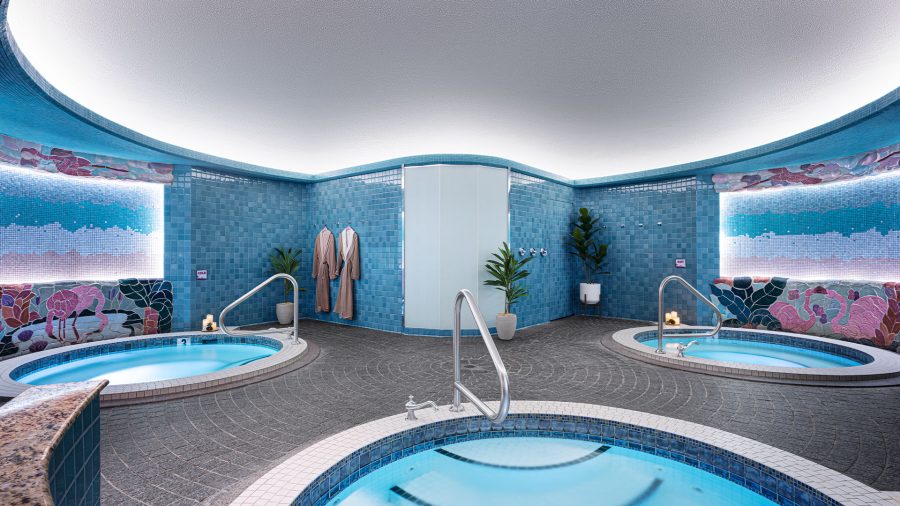 Indulge in Luxury: Qua Baths & Spa at Caesars Palace, Las Vegas
When it comes to luxurious getaways and opulent experiences, Las Vegas is often at the top of the list. Nestled within the iconic Caesars Palace, the Qua Baths & Spa is a hidden gem that promises a rejuvenating escape from the city's high-energy ambiance. This lavish spa is a sanctuary of relaxation and self-care, offering a range of treatments and services designed to pamper your body and soul. In this article, we will delve into the world of Qua Baths & Spa, exploring its highlights and what makes it a must-visit destination for those seeking the ultimate spa experience in Las Vegas.
An Oasis of Tranquility
As you step into Qua Baths & Spa, you are immediately enveloped in a sense of tranquility. The spa's Roman-inspired décor, complete with marble fixtures and soothing water features, transports you to an ancient world of serenity and relaxation. The Roman influence is evident throughout, paying homage to the heritage of Caesars Palace.
A World-Class Menu of Treatments
One of the standout features of Qua Baths & Spa is its extensive menu of treatments and services. From classic massages to cutting-edge therapies, this spa offers something for every wellness enthusiast. Here are some of the highlights:
Classic Massages: Qua offers a range of massages, including Swedish, deep tissue, and hot stone massages. The expert therapists tailor each treatment to your individual needs, ensuring you leave feeling completely relaxed and rejuvenated.
Signature Roman Rituals: Immerse yourself in the Roman bathing tradition with signature rituals such as the "Art of Baths." This experience includes a hydrotherapy circuit, where you can enjoy Roman baths, Arctic ice room, and more.
Skin Rejuvenation: Qua's skincare treatments are designed to leave your skin glowing. Indulge in facials tailored to your skin type and needs, and experience the latest advancements in skincare technology.
Body Treatments: From body scrubs to wraps, these treatments detoxify and nourish your skin. The "Cleopatra Milk and Honey Ritual" is a must-try, leaving your skin soft and supple.
Salon Services: The spa also offers salon services, including manicures, pedicures, and hair styling. Perfect for getting ready for a special night out in Las Vegas.
Holistic Therapies: For those seeking holistic wellness, Qua provides treatments like acupuncture and reflexology, promoting balance and harmony in the body.
Relaxation Spaces
Qua Baths & Spa doesn't just stop at treatments. It offers various relaxation spaces to enhance your spa experience:
Lap Pool: A stunning lap pool surrounded by Roman statues and serene ambiance is perfect for swimming or lounging.
Arctic Ice Room: Cool down and invigorate your senses in this icy chamber, a unique experience that complements the hot treatments.
Laconium Room: Experience the dry heat of the Laconium Room, designed to promote detoxification and relaxation.
Tea Room: After your treatments, unwind in the elegant tea room, where you can sip on herbal teas and enjoy healthy snacks.
Membership and Packages
To make the most of your visits, consider becoming a Qua Baths & Spa member. Membership offers various perks, including access to exclusive facilities and discounts on services. Additionally, the spa often offers packages that combine treatments for a more comprehensive and cost-effective experience.
The Perfect Escape in Las Vegas
In the midst of the vibrant and bustling Las Vegas Strip, Qua Baths & Spa at Caesars Palace offers a tranquil haven where you can escape, unwind, and rejuvenate. Whether you're looking for a romantic retreat, a girls' getaway, or simply some well-deserved self-care, Qua has everything you need to pamper yourself in style. Book your appointment today and experience the epitome of luxury and relaxation at Qua Baths & Spa. Your journey to serenity awaits in the heart of Las Vegas!
Address: 3570 S Las Vegas Blvd, Las Vegas, NV 89109
Hours:
| | |
| --- | --- |
| Friday | 9 AM–6 PM |
| Saturday | 9 AM–6 PM |
| Sunday | 9 AM–6 PM |
| Monday | 9 AM–6 PM |
| Tuesday | 9 AM–6 PM |
| Wednesday | 9 AM–6 PM |
| Thursday | 9 AM–6 PM |