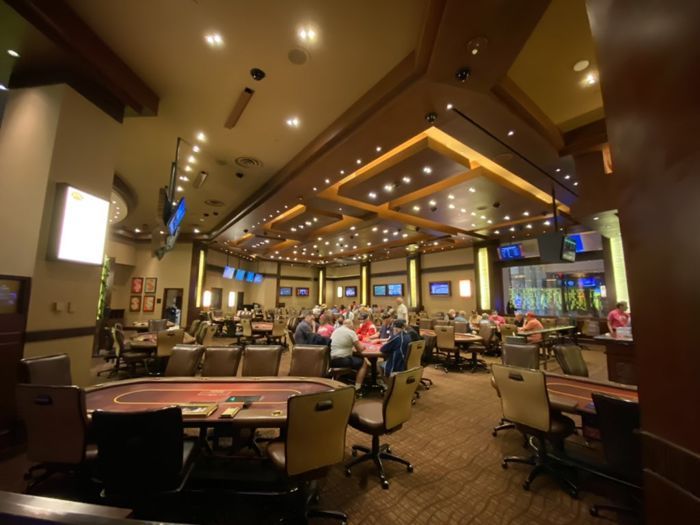 Profile: Red Rock Poker Room, Las Vegas
Introduction: The Red Rock Poker Room, located in Las Vegas, Nevada, is an acclaimed destination for poker enthusiasts seeking thrilling games, professional services, and a vibrant atmosphere. Situated within the luxurious Red Rock Casino, Resort, and Spa, this poker room offers an exceptional gaming experience for players of all skill levels. Boasting an impressive array of amenities, impeccable service, and a commitment to excellence, the Red Rock Poker Room stands as one of the premier poker destinations in Las Vegas.
Location and Accessibility: The Red Rock Poker Room is conveniently situated at 11011 W Charleston Blvd, Las Vegas, NV 89135, within the Red Rock Casino, Resort, and Spa. The casino is located approximately 10 miles west of the Las Vegas Strip, making it easily accessible for both locals and tourists. Visitors can access the poker room through the main entrance of the casino, with clear signage and helpful staff available to assist newcomers.
Facilities and Amenities: The Red Rock Poker Room provides a comfortable and inviting setting for players. The room features a spacious layout with a well-designed seating arrangement, ensuring ample room for each player. The tables are equipped with high-quality poker chips, cards, and professional felts to enhance the gaming experience. The room also offers a non-smoking environment, providing a pleasant and healthy atmosphere for players.
The poker room is equipped with state-of-the-art technology to facilitate smooth operations. Large high-definition screens are strategically placed throughout the room, displaying important information such as tournament details, waiting lists, and live updates. The digital display system ensures that players stay informed and engaged at all times.
The Red Rock Poker Room provides a range of amenities to cater to players' needs. Complimentary food and beverage services are available, with a dedicated waitstaff ready to assist players with their orders. The food options include a variety of snacks, light meals, and beverages, ensuring players can refuel without missing out on the action.
Games and Tournaments: Red Rock Poker Room offers a diverse selection of poker games to suit different preferences. The room primarily focuses on No-Limit Texas Hold'em, which is the most popular variant among players. Cash games are available at various stakes, accommodating both recreational players and high rollers. The tables are well-managed by professional dealers who maintain a friendly and efficient environment.
For players seeking a more competitive experience, the Red Rock Poker Room hosts regular tournaments. These tournaments feature a range of buy-ins and formats, including deep stack tournaments, bounty tournaments, and satellite events. The room also organizes special events and series throughout the year, attracting top players from around the world.
Player Rewards and Promotions: The Red Rock Poker Room offers a comprehensive rewards program for players. Through the resort's Boarding Pass program, players can earn points by participating in cash games and tournaments. These points can be redeemed for various benefits, including free play, dining discounts, hotel accommodations, and more. Additionally, the poker room frequently runs promotions and giveaways, providing players with additional incentives to play.
Staff and Customer Service: The Red Rock Poker Room prides itself on its professional and friendly staff. The dealers are highly trained and possess excellent knowledge of the game, ensuring fairness and accuracy in all dealings. The management team is attentive and responsive, addressing any concerns or queries promptly. The room also provides a dedicated floor staff to oversee operations and assist players with any issues that may arise.
Security and Responsible Gaming: The Red Rock Poker Room places a strong emphasis on security and responsible gaming. The casino employs advanced surveillance systems to ensure the safety and integrity of the games. In compliance with Nevada gaming regulations, the room strictly enforces age restrictions and maintains a responsible gaming policy. Players are encouraged to gamble responsibly, and assistance is available for those who may require it.
Conclusion: The Red Rock Poker Room in Las Vegas offers a world-class poker experience within the luxurious Red Rock Casino, Resort, and Spa. With its exceptional facilities, varied game offerings, top-notch service, and commitment to player satisfaction, it has established itself as a premier destination for poker enthusiasts. Whether you are a casual player or a seasoned professional, the Red Rock Poker Room provides an unforgettable gaming experience in the vibrant city of Las Vegas.