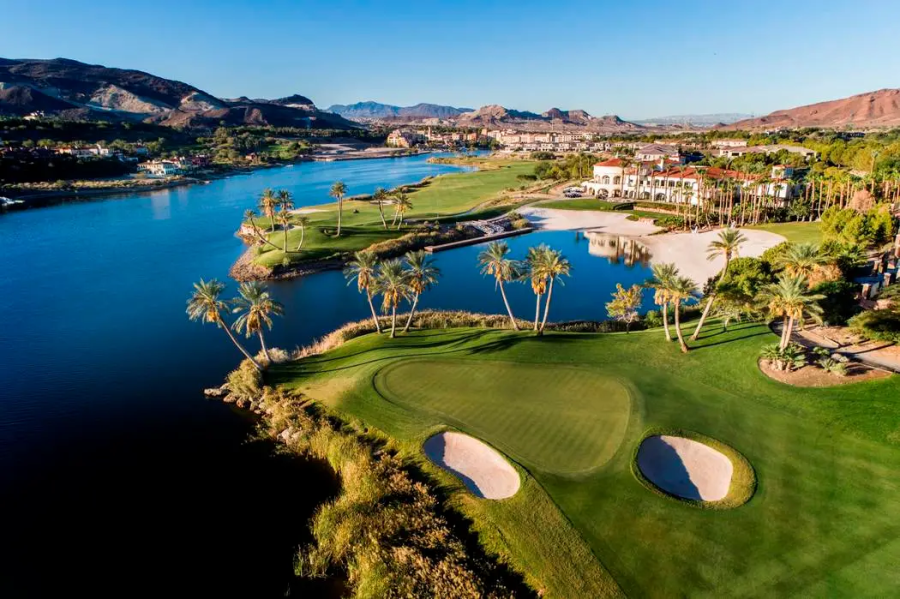 Reflection Bay Golf Club in Las Vegas: Golfing Excellence via Jack Nicklaus
Nestled in the heart of the Mojave Desert, Reflection Bay Golf Club stands as a shimmering oasis of golfing excellence within the bustling city of Las Vegas. This world-class golf course, designed by the legendary Jack Nicklaus, offers an unparalleled golfing experience that seamlessly blends natural beauty, challenging fairways, and a luxurious clubhouse. As you embark on your journey to explore Reflection Bay Golf Club, prepare to be captivated by its stunning landscapes and the epitome of golfing opulence.
The Championship Course
Immerse Yourself in Golfing Paradise
Reflection Bay Golf Club's championship course spans 7,261 yards, showcasing Jack Nicklaus' mastery in designing courses that challenge even the most skilled golfers while providing a memorable experience for players of all levels. This meticulously crafted course features meticulously manicured fairways, rolling greens, and strategically placed bunkers that demand precision and strategy from tee to green.
Scenic Beauty at Every Turn
What truly sets Reflection Bay apart is its breathtaking setting along the shores of Lake Las Vegas. As you play your round, you'll be treated to panoramic views of the sparkling lake waters and surrounding desert mountains. The stunning landscape not only adds to the challenge but also creates a serene and picturesque backdrop that's ideal for a relaxing round of golf.
The Clubhouse
Elegance Meets Comfort
Reflection Bay's clubhouse is a masterpiece of architectural sophistication and comfort. Whether you're a golf enthusiast or simply seeking a luxurious escape, the clubhouse offers a haven of relaxation and indulgence. Its Mediterranean-inspired design exudes an air of timeless elegance, making it the perfect place to unwind after your round.
Dining Excellence
The clubhouse features a restaurant that caters to your culinary desires. Savor delectable dishes created by talented chefs, accompanied by an extensive wine list that complements your meal perfectly. Whether you're celebrating a successful round or enjoying a romantic dinner with a view, Reflection Bay's clubhouse dining is an experience in itself.
Amenities and Services
Expert Instruction
Reflection Bay Golf Club is committed to enhancing your golfing skills. Their professional instructors provide expert lessons, whether you're a beginner looking to get started or a seasoned player seeking to fine-tune your game. Take advantage of personalized coaching to help you reach your golfing goals.
Pro Shop
Explore a well-stocked pro shop offering the latest golf gear and apparel from top brands. Whether you need new clubs, golf attire, or accessories, the knowledgeable staff is ready to assist you in finding the perfect items to enhance your game.
Events and Weddings
Unforgettable Events
Reflection Bay isn't just a golf course; it's a premier event venue. Host your corporate outing, charity tournament, or private celebration in a setting that will leave a lasting impression on your guests. The professional event staff is dedicated to ensuring your occasion is a memorable success.
Dream Weddings
Exchange your vows against the backdrop of the picturesque lake and lush green fairways. Reflection Bay is a dream wedding destination, offering both indoor and outdoor event spaces, expert event planning services, and culinary delights that will make your special day truly unforgettable.
Conclusion
Reflection Bay Golf Club in Las Vegas is a golfing paradise that beckons players from around the world with its challenging course, stunning scenery, and luxurious amenities. Whether you're a seasoned golfer seeking a new challenge or a visitor looking to experience golfing excellence in the heart of the desert, Reflection Bay delivers a world-class experience that will leave you with lasting memories. Book your tee time today and discover the enchantment of Reflection Bay Golf Club for yourself.
Address: 75 Montelago Blvd, Henderson, NV 89011
| | |
| --- | --- |
| Thursday | 6 AM–6 PM |
| Friday | 6 AM–6 PM |
| Saturday | 6 AM–6 PM |
| Sunday | 6 AM–6 PM |
| Monday | 6 AM–6 PM |
| Tuesday | 6 AM–6 PM |
| Wednesday | 6 AM–6 PM |
Menu: reflectionbaygolf.com