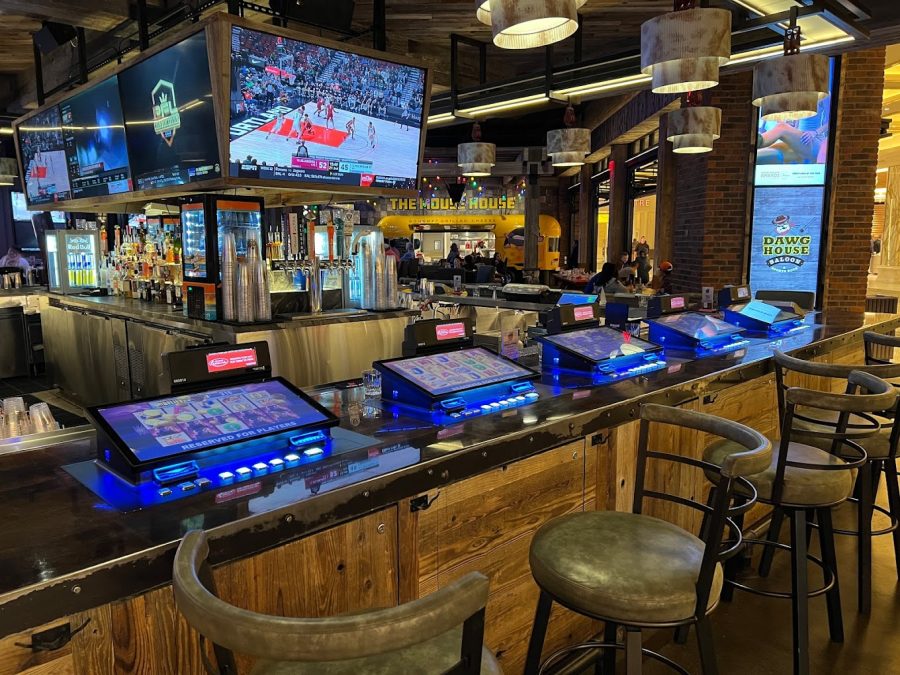 Profile: Resorts World Sportsbook and Dawg House
Introduction: Resorts World Sportsbook and Dawg House is a dynamic and immersive sports betting and entertainment destination located within the renowned Resorts World Las Vegas. This premier facility combines the thrill of sports wagering with a vibrant atmosphere, cutting-edge technology, and a dedicated venue for live sports viewing. Whether you're a passionate sports bettor or a casual fan seeking an exhilarating experience, Resorts World Sportsbook and Dawg House caters to all, providing an unforgettable and all-encompassing entertainment experience.
Location and Setting: Resorts World Sportsbook and Dawg House is centrally located on the iconic Las Vegas Strip, surrounded by the electric energy of the city. Situated within the expansive Resorts World Las Vegas, the venue offers convenient access to visitors and guests. The sportsbook and Dawg House are thoughtfully designed with a contemporary and luxurious aesthetic, combining modern elements with the excitement of a vibrant sports atmosphere.
Betting Options and Markets: Resorts World Sportsbook and Dawg House cater to a diverse range of sports enthusiasts by offering an extensive selection of betting options across numerous sports and events. From popular leagues like the NFL, NBA, MLB, and NHL to international competitions, soccer, tennis, golf, motorsports, and beyond, the sportsbook provides an expansive menu of wagering opportunities. Patrons can engage in traditional betting formats such as moneylines, point spreads, and totals, while also enjoying prop bets, futures, parlays, and more.
Cutting-Edge Technology: Resorts World Sportsbook and Dawg House pride themselves on utilizing cutting-edge technology to elevate the betting experience. The sportsbook features numerous high-definition video walls that immerse visitors in the excitement of live sporting events. The integration of advanced betting terminals enables seamless and convenient wagering, with real-time odds updates and efficient processing of bets. Additionally, the state-of-the-art audiovisual systems within Dawg House provide an exceptional viewing experience, bringing sports to life in a captivating and dynamic manner.
Dawg House: A Premier Sports Bar Experience: Adjacent to the sportsbook, Dawg House is a premier sports bar that enhances the excitement of the betting experience. Designed with the sports enthusiast in mind, Dawg House features an impressive array of large screens broadcasting live sporting events from around the world. Patrons can relish in the camaraderie of fellow fans, indulge in a diverse selection of beverages, and savor a menu of delectable bites specially crafted to complement the vibrant atmosphere. With its energetic ambiance and immersive sports viewing, Dawg House is the perfect setting to socialize, cheer on favorite teams, and celebrate sports triumphs.
VIP Facilities and Amenities: For those seeking a premium sports betting experience, Resorts World Sportsbook and Dawg House offer exclusive VIP facilities and amenities. The VIP lounge provides a luxurious and private environment for high-rollers and discerning guests. Within this secluded space, VIPs can enjoy personalized service, private betting stations, comfortable seating, and dedicated concierge assistance, ensuring an unparalleled VIP experience tailored to their specific needs and preferences.
Expertise and Customer Support: Resorts World Sportsbook and Dawg House are committed to providing exceptional customer service and expert assistance to their patrons. Knowledgeable and friendly staff members are readily available to answer questions, provide guidance on betting strategies, and offer support throughout the wagering process. The team's expertise ensures that each visitor receives personalized attention and a seamless and enjoyable sports betting experience.
Responsible Gaming Initiatives: Resorts World Sportsbook and Dawg House prioritize responsible gaming, taking proactive measures to promote a safe and responsible betting environment. The venue provides resources and information to assist individuals in making informed decisions regarding their betting activities. Trained staff members are available to offer guidance and assistance to those who may require support, exemplifying the commitment to ensuring the well-being of all patrons.
Conclusion: Resorts World Sportsbook and Dawg House represent a dynamic fusion of sports wagering, live sports viewing, and unparalleled entertainment. With its prime location, vast selection of betting options, cutting-edge technology, VIP facilities, and commitment to responsible gaming, this premier destination sets the stage for an extraordinary sports betting experience. Whether you're a seasoned bettor, an avid sports fan, or simply seeking an immersive and vibrant atmosphere to enjoy live sports, Resorts World Sportsbook and Dawg House deliver an unparalleled fusion of excitement, luxury, and entertainment.