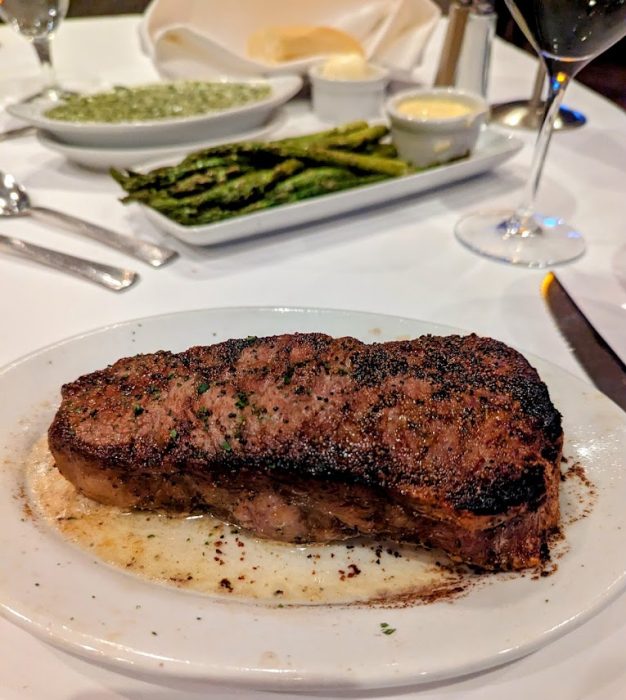 Ruth's Chris Steak House in Las Vegas: A Culinary Oasis of Premium Steak Excellence
Introduction: Nestled within the vibrant heart of Las Vegas, Ruth's Chris Steak House stands as an icon of culinary sophistication, where indulgence and flavor converge to create an unparalleled dining experience. With its prime location, impeccable service, and a menu that celebrates the art of grilling, this establishment has earned its rightful place as a beloved destination for locals and visitors alike.
Address and Contact Information:
Address: 3950 S Las Vegas Blvd, Las Vegas, NV 89119
Phone: (702) 731-7373
Ambiance and Atmosphere: The moment you step inside Ruth's Chris Steak House, you're greeted by an ambiance that effortlessly blends elegance and comfort. The rich, warm tones of the decor create a cozy yet sophisticated setting, making it an ideal choice for intimate dinners, special occasions, and business gatherings. The attentive and knowledgeable staff ensures that every guest's experience is memorable and tailored to perfection.
Menu Highlights: Ruth's Chris Steak House in Las Vegas elevates the steakhouse experience to new heights with an array of meticulously prepared dishes:
Signature USDA Prime Steaks: The heart of the menu is undoubtedly the USDA Prime steaks that have become synonymous with the Ruth's Chris brand. From the succulent Ribeye to the buttery Filet Mignon, each steak is hand-selected, expertly aged, and cooked to perfection at 1800°F to lock in the exquisite flavors.
Tantalizing Starters: The culinary journey begins with an array of delectable appetizers. The Crab Stack featuring jumbo lump crabmeat and avocado, and the Sizzling Blue Crab Cakes with a hint of Creole mustard are standout choices that set the tone for an exceptional meal.
Sides that Complement: Ruth's Chris ensures that every aspect of the dining experience is exceptional, and the side dishes are no exception. Guests can savor the richness of Lobster Mac & Cheese, the boldness of Creamed Spinach, and the indulgence of Sweet Potato Casserole.
Seafood Selections: While steak takes center stage, seafood lovers have a reason to rejoice. The Stuffed Chicken Breast filled with garlic herb cheese and served alongside lemon butter, and the Chilean Sea Bass bathed in citrus-coconut butter, offer a harmonious alternative to the steak offerings.
Irresistible Desserts: The grand finale of any meal at Ruth's Chris is incomplete without one of their decadent desserts. The Warm Apple Crumb Tart and the Chocolate Sin Cake are just a glimpse into the array of sweet delights that await.
Unrivaled Culinary Excellence: Ruth's Chris Steak House has set the gold standard for premium dining in Las Vegas through its unwavering commitment to culinary excellence. The emphasis on quality, presentation, and innovation has propelled this establishment to be a sought-after destination for those seeking an unparalleled steakhouse experience.
Conclusion: In the heart of Las Vegas, Ruth's Chris Steak House stands as a testament to the art of grilling, the joy of indulgence, and the celebration of exquisite flavors. With its prime location, impeccable service, and a menu that pays homage to the finest ingredients, this dining haven continues to captivate the palates and hearts of locals and visitors alike, making it an essential stop for those seeking a truly exceptional gastronomic adventure.