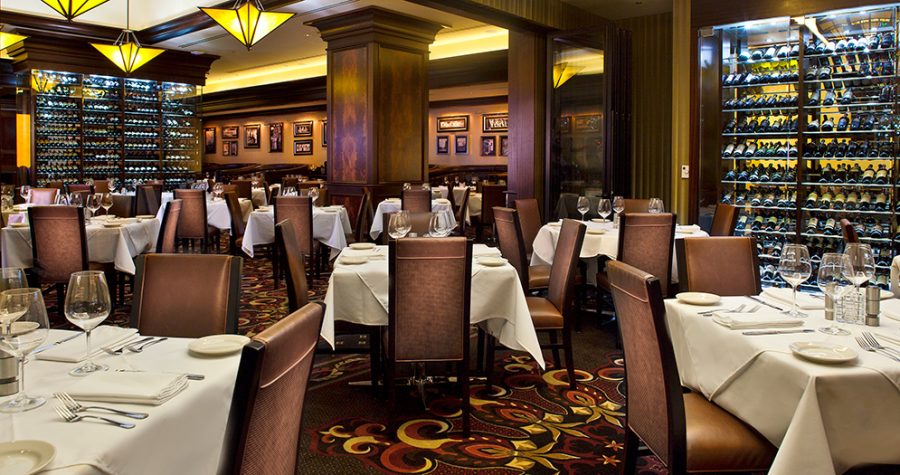 Vic & Anthony's Steakhouse: A Premier Dining Experience in Las Vegas
Introduction: Vic & Anthony's Steakhouse is a renowned and upscale dining establishment located in the heart of Las Vegas, Nevada. With its impeccable service, elegant ambiance, and mouthwatering cuisine, this steakhouse has earned a reputation as one of the city's premier destinations for steak lovers and fine dining enthusiasts. Whether you're a local resident or a visitor to Las Vegas, Vic & Anthony's promises an unforgettable culinary experience that combines classic steakhouse traditions with contemporary flair.
History and Background: Vic & Anthony's Steakhouse first opened its doors in Houston, Texas, in 2004, as an extension of the acclaimed Landry's, Inc. restaurant group. Due to its tremendous success and popularity, the brand expanded to Las Vegas, bringing its signature style and delectable menu to the bustling Las Vegas Strip. The Las Vegas location quickly became a favorite among both locals and tourists, establishing itself as a must-visit dining establishment in the city's vibrant culinary scene.
Ambiance and Decor: Upon entering Vic & Anthony's Steakhouse, guests are greeted by a sophisticated and luxurious atmosphere. The restaurant's interior is adorned with elegant fixtures, plush leather seating, and warm lighting that creates an intimate and inviting ambiance. The attention to detail is evident in every corner, from the polished wood finishes to the tastefully curated artwork. The restaurant strikes a perfect balance between refined elegance and a welcoming, comfortable setting, making it suitable for romantic dinners, business meetings, or special occasions.
Culinary Excellence: Vic & Anthony's Steakhouse prides itself on offering the finest quality meats and ingredients, prepared by a team of highly skilled chefs. The menu showcases an extensive selection of prime cuts, including mouthwatering USDA Prime steaks, such as:
Filet Mignon: A tender and succulent cut, known for its buttery texture and exquisite flavor.
Ribeye: A well-marbled steak, featuring rich, juicy, and flavorful meat.
New York Strip: A classic choice, offering a robust and hearty steak experience.
Each steak is expertly seasoned and cooked to perfection, ensuring a tender and flavorful dining experience. For seafood enthusiasts, Vic & Anthony's also offers a variety of options, such as Alaskan king crab legs, lobster tail, and fresh oysters.
Complementing the main courses, the restaurant presents an array of delectable side dishes, including creamy mashed potatoes, sautéed wild mushrooms, and truffle mac and cheese. The culinary team at Vic & Anthony's prioritizes using the finest and freshest ingredients, resulting in a remarkable dining experience that caters to diverse palates.
Wine and Beverage Selection: To complement the exquisite cuisine, Vic & Anthony's boasts an extensive wine cellar with an impressive collection of domestic and international wines. From rich and full-bodied reds to crisp and refreshing whites, the restaurant's sommeliers curate a diverse selection that caters to all preferences. The knowledgeable staff is always available to assist guests in pairing the perfect wine with their meal.
In addition to the exceptional wine selection, Vic & Anthony's offers an extensive cocktail menu, featuring classic concoctions and innovative mixology creations. Whether you're in the mood for a perfectly crafted martini or a refreshing signature cocktail, the skilled bartenders at Vic & Anthony's will ensure your beverage of choice is prepared to perfection.
Service and Hospitality: The service at Vic & Anthony's Steakhouse is unparalleled, with a team of attentive and professional staff members who prioritize the comfort and satisfaction of every guest. From the moment you step through the door until the end of your dining experience, you can expect nothing less than exceptional service. The waitstaff is knowledgeable about the menu offerings, providing insightful recommendations and ensuring any dietary preferences or restrictions are accommodated.
The commitment to service excellence extends beyond the dining area, as Vic & Anthony's offers private dining options for special events and gatherings. Whether it's an intimate dinner for two or a larger celebration, the restaurant's dedicated event coordinators work closely with guests to create a customized experience that exceeds expectations.
Accolades and Recognition: Vic & Anthony's Steakhouse has received numerous accolades and recognition throughout its existence, solidifying its position as one of Las Vegas's top dining destinations. The restaurant has been awarded the AAA Four Diamond rating, a testament to its exceptional quality and service. Additionally, it has been consistently ranked among the best steakhouses in Las Vegas by renowned publications such as Las Vegas Weekly and Thrillist.
Conclusion: Vic & Anthony's Steakhouse in Las Vegas offers an extraordinary dining experience, combining exquisite cuisine, elegant ambiance, and world-class service. Whether you're seeking the perfect steak, an indulgent seafood feast, or a memorable evening out, this premier steakhouse is the ideal destination. From its rich history to its commitment to culinary excellence, Vic & Anthony's continues to set the standard for fine dining in Las Vegas, leaving guests with unforgettable memories and a desire to return again and again.