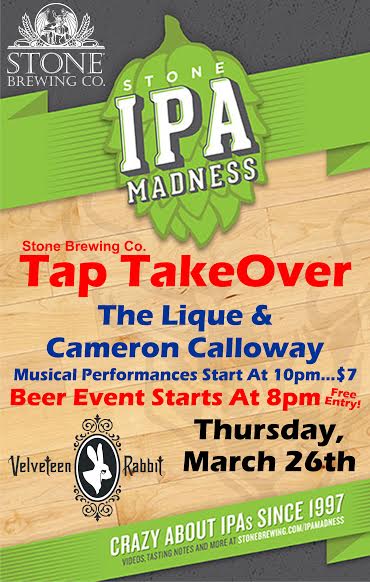 From our friends at the Velveteen Rabbit, Arts District in Downtown Las Vegas:
Hey There Spring Bunnies,
TOMORROW we are being taken over by STONE IPAs!!!!!!!!!

Starting at 8pm we'll be featuring 4 STONE IPAs :
ENJOY BY 420 DOUBLE IPA
CALI-BELGIQUE
DELICIOUS IPA
GREEN TEA IPA
SO MANY HOPS!!!!!!!!!!!!! 
But the night doesn't stop there! Starting at 10p, on our back patio, enjoy the sweet soulful soundz of CAMERON CALLOWAY alongside the jazzy psychedelic hip hop of THE LIQUE / $7
See you tomorrow night! XO