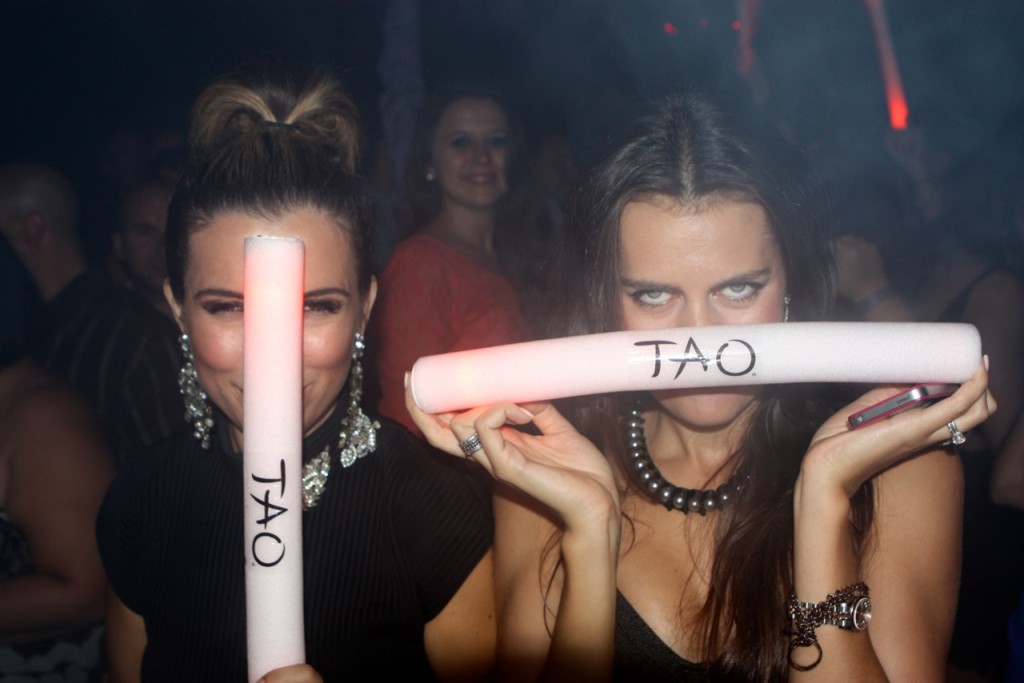 Tao Nightclub at The Venetian in Las Vegas is an iconic and vibrant nightlife destination that offers an unforgettable experience for party-goers and music enthusiasts. Located within the opulent Venetian Resort, Tao Nightclub is known for its lavish Asian-inspired decor, state-of-the-art sound and lighting systems, and a lineup of world-renowned DJs.
Upon entering Tao Nightclub, guests are greeted by a grand entrance featuring an enormous golden Buddha statue, setting the tone for the exotic ambiance that awaits. The venue spans over 10,000 square feet and is meticulously designed with intricate details that reflect a fusion of Eastern and Western influences.
The main room of Tao Nightclub features a spacious dance floor surrounded by VIP tables and private skyboxes, creating a multi-level environment that caters to various party styles. The dance floor is always pulsating with energy as the DJ spins an eclectic mix of music genres, including electronic dance music (EDM), hip-hop, and Top 40 hits, keeping the crowd entertained throughout the night.
One of the highlights of Tao Nightclub is its cutting-edge audio and visual technology. The club boasts a state-of-the-art Funktion-One sound system, which ensures crystal-clear and immersive music quality throughout the venue. Complementing the beats are mesmerizing lighting effects, LED screens, and lasers that enhance the visual experience and add to the electric atmosphere.
For guests seeking a more intimate experience, Tao Nightclub offers exclusive skyboxes overlooking the dance floor. These private spaces provide VIP treatment with dedicated cocktail servers, luxurious furnishings, and a bird's eye view of the party below. The skyboxes offer a perfect balance between privacy and being part of the vibrant atmosphere of the club.
The venue also features multiple bars strategically placed throughout the club, ensuring quick and convenient access to refreshments. Tao Nightclub offers an extensive selection of premium spirits, craft cocktails, and bottle service options to cater to all tastes and preferences.
In addition to its exceptional nightlife experience, Tao Nightclub frequently hosts performances by renowned DJs and special guest artists, making it a hotspot for both local and international talent. The club often collaborates with popular music labels and hosts themed nights or special events, adding an extra layer of excitement and variety to the club's offerings.
Beyond the dance floor, Tao Nightclub also boasts an outdoor terrace that offers a unique experience. The terrace provides a breath of fresh air and stunning views of the Las Vegas Strip, allowing guests to take a break from the vibrant atmosphere inside while still enjoying the energy and allure of the club.
To ensure a seamless and hassle-free experience, Tao Nightclub offers a range of reservation options. Guests can book VIP tables or skyboxes in advance, granting them priority entry and personalized service throughout the night. The club's attentive staff and dedicated concierge ensure that guests are well taken care of and have an unforgettable time.
Tao Nightclub at The Venetian in Las Vegas stands as an epitome of luxury, entertainment, and nightlife in Sin City. Its captivating atmosphere, top-notch music, stunning visuals, and exceptional service combine to create an extraordinary clubbing experience that keeps party-goers coming back for more.
P.S. It's always a good idea to check the official website or contact Tao Nightclub directly for the most up-to-date information regarding events, reservations, and policies.