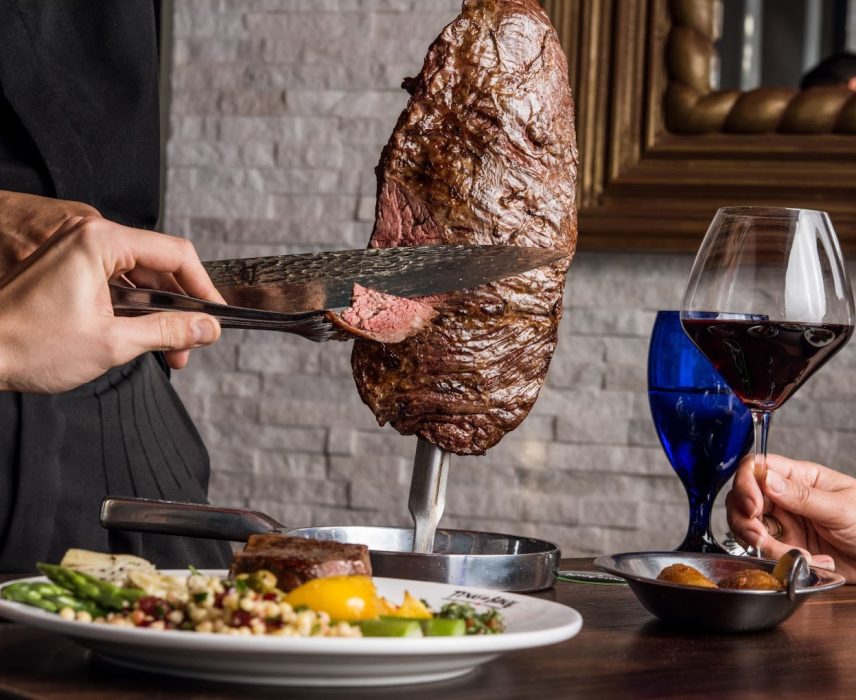 Texas de Brazil Las Vegas: A Premier Churrascaria Dining Experience
Introduction: Located in the dazzling city of Las Vegas, Texas de Brazil brings the authentic flavors of Brazilian churrascaria to the heart of the city. With its exceptional assortment of premium meats, inviting ambiance, and attentive service, Texas de Brazil is a culinary haven for both residents and visitors seeking a churrascaria dining adventure.
Location: Discover the delights of Texas de Brazil at: Address: 6533 S Las Vegas Blvd, Las Vegas, NV 89119 Phone: (702) 614-0080
Hours of Operation:
Lunch:

Monday to Friday: 11:00 AM – 2:00 PM
Saturday and Sunday: 11:00 AM – 3:00 PM

Dinner:

Monday to Thursday: 5:00 PM – 9:30 PM
Friday: 4:30 PM – 10:00 PM
Saturday: 3:00 PM – 10:00 PM
Sunday: 3:00 PM – 9:00 PM
Menu Highlights: Texas de Brazil offers an exquisite selection of dishes that cater to a range of tastes:
Gourmet Salad Area:

Embark on your culinary journey with a visit to the expansive gourmet salad area, boasting an array of over 50 meticulously crafted items, including artisanal cheeses, premium charcuterie, and vibrant vegetables.

Signature Cuts of Meat:

Relish in a variety of succulent, flame-grilled meats, expertly seasoned and served tableside by skilled "gauchos." Noteworthy selections include:

Picanha (Top Sirloin)
Filet Mignon
Lamb Chops
Parmesan-Crusted Pork Loin

Traditional Brazilian Sides:

Enhance your meal with authentic Brazilian sides, including:

Brazilian Cheese Bread (Pão de Queijo)
Feijoada (Black Bean Stew)
Garlic Mashed Potatoes

Decadent Desserts:

Conclude your dining experience with indulgent desserts such as:

Flan
Brazilian Cheesecake
Bananas Foster Pie
Drink Highlights: Texas de Brazil's beverage offerings perfectly complement the rich flavors of the cuisine:
Wine Selection:

Explore an extensive wine collection sourced from around the world, thoughtfully curated to harmonize with the diverse tastes of the churrascaria.

Handcrafted Cocktails:

Delight in skillfully crafted cocktails that blend Brazilian influences with contemporary twists, elevating your meal with a burst of flavors.

Non-Alcoholic Beverages:

Quench your thirst with a variety of non-alcoholic options, including tropical mocktails and refreshing sodas.
Ambiance: The interior of Texas de Brazil Las Vegas offers an elegant atmosphere that seamlessly fuses modern aesthetics with the inviting charm of Brazilian culture. Whether you're marking a special occasion or simply enjoying a night out, the ambiance sets the stage for a remarkable dining experience.
Reservations: Although reservations are not mandatory, they are highly recommended, particularly during peak hours and weekends, to ensure you secure your preferred dining time.
Conclusion: Texas de Brazil Las Vegas is a haven for culinary enthusiasts seeking an authentic churrascaria encounter in the vibrant city of Las Vegas. With its exceptional location, attentive service, and an array of delectable menu offerings, this establishment guarantees an unforgettable dining experience that seamlessly melds tradition and innovation.