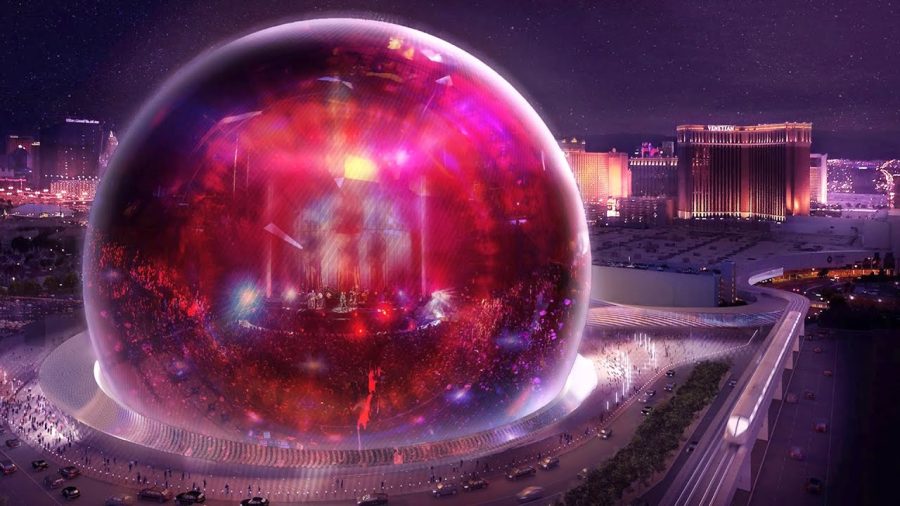 The Sphere at The Venetian Resort is a spherical music and entertainment arena in Paradise, Nevada, near the Las Vegas Strip and east of the Venetian resort. It is the world's largest spherical structure, with a height of 366 feet and a width of 516 feet. The venue seats just under 18,000 people and is designed to host a variety of events, including concerts, sporting events, and other live entertainment.
The Sphere was designed by Populous, the global architecture firm behind many of the world's top sports arenas. The exterior of the Sphere is made of ETFE, a transparent material that is also used in the construction of greenhouses. The interior of the Sphere is a bowl-shaped theater with a 170-foot-wide LED screen. The screen is the world's highest-resolution wraparound LED screen and is capable of displaying images and videos in stunning detail.
The Sphere is scheduled to open on September 29, 2023, with U2 as its first performer in a residency titled U2:UV Achtung Baby Live at Sphere. It will mark the group's first live show since 2019. MSG plans on hosting four to six residencies each year at the Sphere. The company is also scheduled to debut a show, Postcards from Earth, at the Sphere in October 2023. The venue will employ up to 3,000 people.
Address: 3350 Las Vegas Blvd S, Las Vegas, NV 89109
Hours of operation:
Hours vary depending on event
General admission doors typically open 90 minutes prior to showtime
Tickets:
Tickets for events at the Sphere are available for purchase online or at the venue box office.
Ticket prices vary depending on the event
Transportation:
The Sphere is located just east of the Las Vegas Strip and is easily accessible by car, bus, or taxi.
The closest public parking garage is the Venetian/Palazzo Valet Parking Garage.
Other information:
The Sphere is equipped with a variety of amenities, including a food court, a merchandise store, and a children's play area.
The venue is also wheelchair accessible.
The Sphere at The Venetian Resort is a truly unique and innovative entertainment venue. It is sure to be a popular destination for locals and tourists alike. If you are looking for an unforgettable experience, be sure to check out a show at the Sphere.