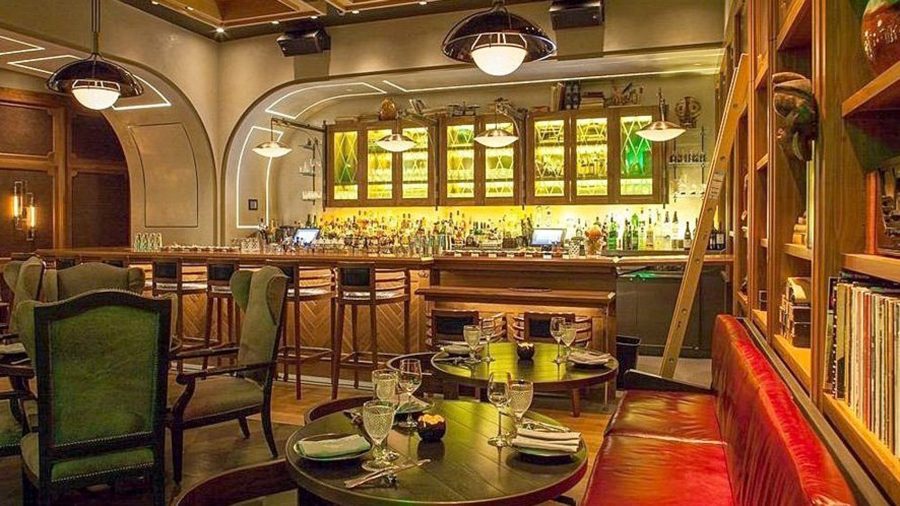 The Study: A Hidden Cocktail Lounge at Cosmopolitan, Las Vegas
Address: The Study is located inside The Cosmopolitan of Las Vegas. 3708 S Las Vegas Blvd, Las Vegas, NV 89109, United States.
Hours of Operation: The Study operates during the following hours:
Sunday to Thursday: 5:00 PM to 2:00 AM
Friday and Saturday: 5:00 PM to 4:00 AM
Introduction: Tucked away within the bustling Cosmopolitan of Las Vegas, The Study is a hidden gem that offers a unique and intimate experience for cocktail enthusiasts. Concealed behind a bookcase within the resort's bustling restaurant, The Study is a stylish and sophisticated lounge where guests can escape the lively atmosphere of the Las Vegas Strip and indulge in expertly crafted drinks.
Atmosphere and Design: The Study is designed to evoke the ambiance of a private library, with dark wood paneling, vintage leather armchairs, and shelves filled with carefully curated books and curiosities. The dim lighting creates a cozy and intimate atmosphere, perfect for quiet conversations and relaxation. The lounge's attention to detail and thoughtful design elements contribute to an overall sense of exclusivity and luxury.
Drink Highlights: The Study boasts an impressive selection of handcrafted cocktails, expertly prepared by skilled mixologists. Each drink is a work of art, with attention given to every detail, from the choice of spirits to the garnish. Some drink highlights include:
The Librarian's Old Fashioned: A classic twist on the traditional Old Fashioned, made with premium bourbon, handcrafted bitters, and a touch of maple syrup, garnished with a Luxardo cherry and an orange twist.
The Secret Garden: A refreshing gin-based cocktail infused with cucumber, elderflower liqueur, and fresh lime juice, topped with a sprig of mint.
The Literary Sour: A delightful blend of bourbon, lemon juice, simple syrup, and egg white, shaken to perfection and finished with a dash of aromatic bitters.
The Hidden Treasure: A tropical-inspired concoction featuring rum, coconut cream, pineapple juice, and a hint of lime, garnished with a pineapple wedge and a sprinkle of toasted coconut flakes.
The Enigma: An intriguing mix of vodka, lavender-infused honey syrup, lemon juice, and a touch of absinthe, served in a chilled coupe glass.
Contact Information: For more information or to make a reservation at The Study, you can contact them through the following channels:
Conclusion: The Study at Cosmopolitan is a hidden cocktail lounge that offers a captivating and memorable experience for guests seeking a sophisticated escape within the vibrant city of Las Vegas. With its unique atmosphere, expertly crafted drinks, and attention to detail, The Study stands as a testament to the artistry and craftsmanship of the mixology world. Whether you're a seasoned cocktail connoisseur or simply looking to indulge in a memorable night out, The Study is a must-visit destination for those seeking an exceptional drinking experience.