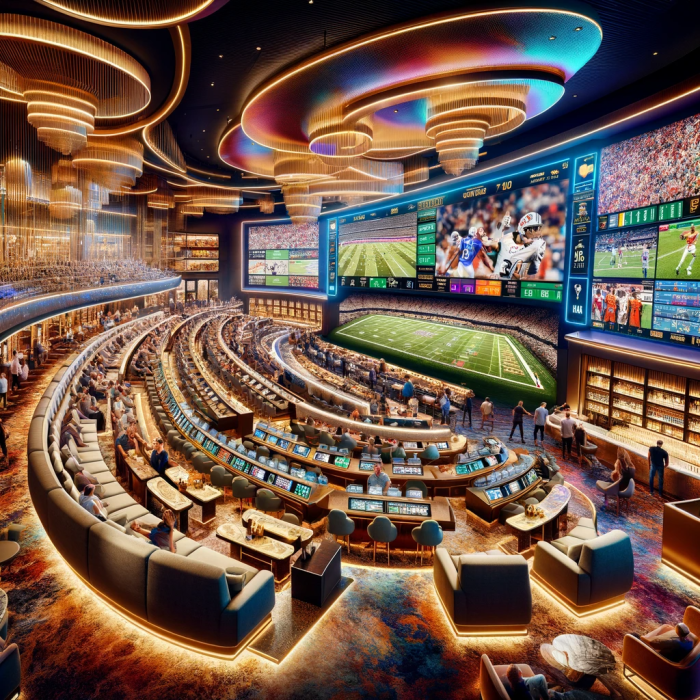 Las Vegas is a premier destination for sports bettors, with some of the most opulent and technologically advanced sportsbooks in the world. Here are the top five sportsbooks in the city, each offering a unique and thrilling experience.
Circa Sportsbook As the latest addition to the Las Vegas sports betting scene, Circa Sportsbook dominates with the largest venue and an impressive 78 million pixel screen for an unparalleled viewing experience. Located on the bustling Fremont Street, Circa is not just a sportsbook but a destination, offering a thousand seats for eager bettors amidst the neon-lit backdrop of downtown Las Vegas.
Westgate SuperBook The iconic Westgate SuperBook is a titan in the industry, boasting the title of the original World's Largest Sportsbook. This 30,000-square-foot arena features a liberal comp system, over 350 stadium seats, VIP booths, and an immense 220-foot-long video screen, making it a paradise for sports enthusiasts who enjoy a grand scale betting environment with quick line releases and a willingness to accept large wagers.
Caesars Palace Sportsbook Caesars Palace is synonymous with luxury and its sportsbook is no exception. Often hailed as the pinnacle of sports betting in Las Vegas, Caesars Palace offers a vast betting arena that many veteran bettors consider the best in town for its classic elegance and comprehensive betting experience.
The Mirage Sportsbook At The Mirage, bettors are treated to what is widely regarded as an essential Las Vegas sports betting experience. With personal betting terminals at every seat, The Mirage ensures a personalized and uninterrupted betting experience. Although it does not offer mobile betting, the focus on individual service makes it a favorite among traditional bettors.
MGM Grand Sportsbook The MGM Grand is home to a sportsbook that epitomizes luxury. The circular room is adorned with numerous screens, and the sportsbook features exclusive skyboxes that provide a bird's eye view of the action. This setting is perfect for bettors who prefer a more refined and private betting atmosphere.
These sportsbooks are more than just places to place bets; they are immersive environments that offer comfort, state-of-the-art viewing, and a touch of the opulence that Las Vegas is famous for. Whether one prefers the largest screens, personal service, or a luxurious betting experience, these sportsbooks cater to all preferences, solidifying Las Vegas's status as a top destination for sports bettors.
Above article according to ChatGPT, below article according to Google Bard.
Las Vegas: The Ultimate Sports Betting Mecca
Las Vegas, the "Entertainment Capital of the World," is also a haven for sports enthusiasts and bettors. With its iconic casinos, vibrant nightlife, and world-class amenities, Las Vegas offers an unparalleled sports betting experience. Whether you're a seasoned gambler or a novice placing your first bet, the city's numerous sportsbooks cater to every level of expertise and preference.
Top Five Sportsbooks in Las Vegas
Westgate SuperBook
Dubbed the "Largest Sportsbook in the World," the Westgate SuperBook at Westgate Las Vegas Resort & Casino lives up to its name. Spanning over 30,000 square feet, this massive sportsbook boasts a 220-foot-long LED video wall, along with hundreds of individual screens, ensuring you won't miss a single moment of the action. The SuperBook also offers a wide variety of betting options, including in-play betting and prop bets, catering to both casual and experienced bettors.
Circa Sportsbook
Located in the heart of downtown Las Vegas, Circa Sportsbook at Circa Resort & Casino stands out for its luxurious ambiance and cutting-edge technology. With its three-story LED display and plush seating options, Circa provides an immersive sports viewing experience. The sportsbook also features a robust mobile app, allowing bettors to place wagers and track their bets seamlessly from anywhere.
Wynn Race & Sports Book
Known for its sophisticated elegance, Wynn Race & Sports Book at Wynn Las Vegas exudes a refined atmosphere. The sportsbook features a spacious layout with comfortable seating and high-definition screens. Wynn Race & Sports Book is renowned for its competitive odds and extensive betting menu, making it a popular choice among discerning sports bettors.
The Venetian Race & Sports Book
The Venetian Race & Sports Book at The Venetian Resort Hotel Casino captures the essence of Venice with its opulent décor and captivating ambiance. The sportsbook features a 160-foot-long LED video wall and over 350 individual screens, ensuring that no bettor misses a beat. The Venetian Race & Sports Book also offers a variety of VIP amenities, including private betting booths and dedicated service.
Rampart Race & Sports Book
Situated off the Las Vegas Strip, Rampart Race & Sports Book at Rampart Casino Resort Spa provides a more intimate and relaxed sports betting experience. The sportsbook features a comfortable lounge setting with ample seating and numerous high-definition screens. Rampart Race & Sports Book is known for its friendly and knowledgeable staff, making it an ideal destination for first-time bettors or those seeking personalized service.
Conclusion
Las Vegas offers an unrivaled sports betting experience, with its diverse range of sportsbooks catering to every preference and budget. Whether you're seeking the grandeur of the Westgate SuperBook, the refined elegance of Wynn Race & Sports Book, or the intimate ambiance of Rampart Race & Sports Book, Las Vegas has the perfect sportsbook to elevate your betting experience.