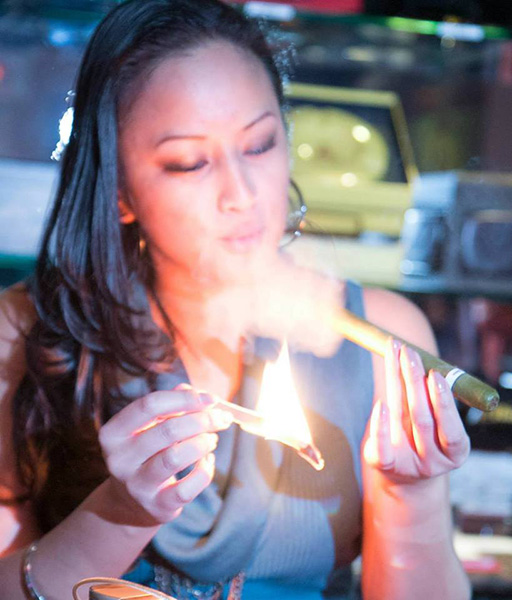 With Tobacconist, Jaxx Guevarra
The drink you choose can change a smoke. It can make or break a cigar. You should also consider the setting and occasion so that it aligns with a cigar's qualities. To put together two great pairings, I consulted with my favorite tobacconist, Jaxx Guevarra. She's passionate about cigars and pairings, and works extensively with manufactures, reps, and cigar enthusiasts. She also reminds me of important details, as in approximately 65% of cigar taste depends on the wrapper, and that taste and body are quite different; plus your price points should match. We spent a quiet afternoon in a sunlit lounge. Sometimes we stepped onto the patio, letting the warm spring wind infuse our drinks and cigars.
Pairing 1
Chivas Regal 18, Gold Signature with Illusione Epernay.  Casual; good for outdoors, sunsets or on the water; pre-meal smoke.
Pairing 2
Chivas Regal 25, The Original with La Palina, Family Series.  Celebration or special occasion; high price point; after-meal smoke.
Chivas is premium-blended scotch-whiskey, currently under custodian of master blender Colin Scott.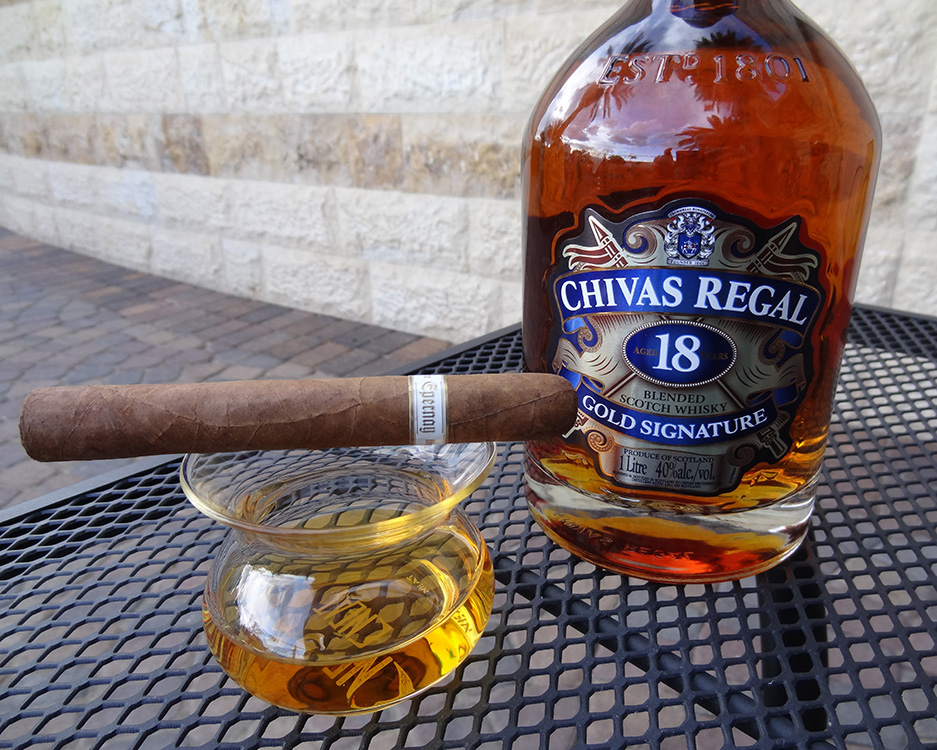 Our first pairing is Chivas 18, Gold Signature and an Epernay. We like to use neat glasses (or similar) with the Chivas. These were the official tasting glasses for the 2013 San Francisco World Spirits Competition. They help you smell and enjoy all the aromas of the spirit without the burn or numbing sensation of alcohol. This is important since all Chivas selections have extraordinary notes. Chivas is also about chivalry, and you feel chivalrous drinking it if in the presence of a radiant, refined woman, like Jaxx.
The 18 has an intense, dark amber color. Complex, layered aromas include dried fruits, dark chocolate, caramel and buttery toffee. The taste involves more bittersweet dark chocolate, almost velvety, with wisps of mellow, sweet smokiness. Then a long, warming finish.
The Epernay is smooth and medium-bodied. Subtle. It contains a consistency of flavor from start to finish. The body hits toward the center. The cigar is finished with a superior grade Café' Rosado cloverleaf. When you take a puff, then sip the 18, you have a pleasant aftertaste, as the Chivas lightly coats the tongue in toffee and other gentle notes. In this first pairing, Chivas is the chaser.
Then, after you drink, you want another puff, as they become a smooth blend. The cigar doesn't fight the drink, nor does the drink fight the cigar.
The Epernay is perfect for outdoors. Perhaps on a dock or shore, watching the sunset before a late dinner. It has a nice draw. It's smoky and mild, with hints of coffee and honey. It also has a clean freshness to it, almost airy. It's a lighter smoke that could be midday as well. Again, pre-meal is best.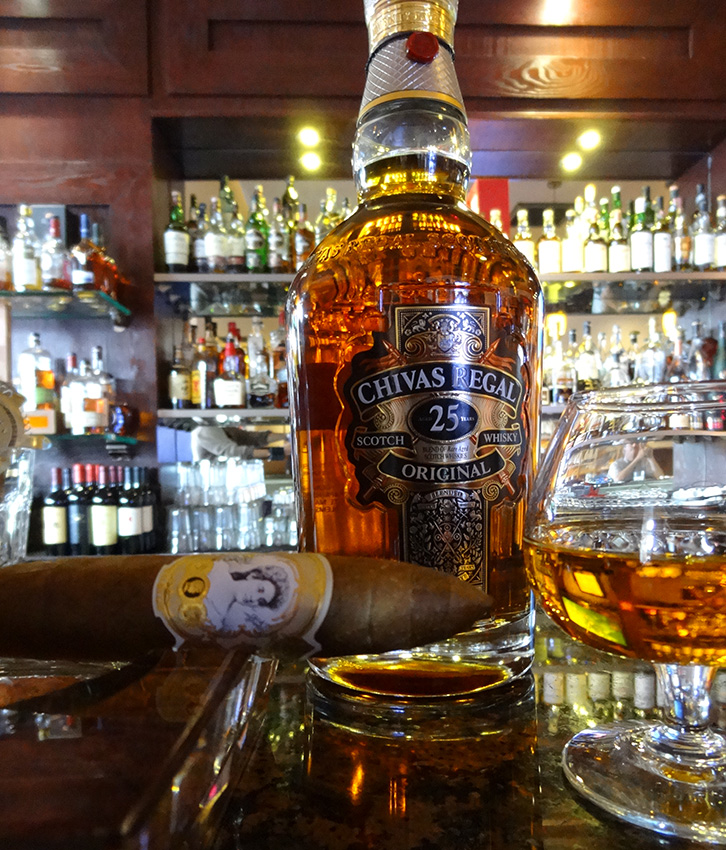 Our second pairing involves the Chivas 25, The Original and La Palina, Family Series. This luxurious, expensive combination is suggested for truly special occasions, and is harder to find.
The 25 looks like rich liquid gold in a glass. You'll smell fruits such as peach and orange, then notes of marzipan. It's rounded with a touch of chocolate creaminess.
The La Palina is very smooth, with an easy, clean draw. It's very smoky and the ash holds nicely. Full-bodied but subtle on the palate. The filler is another highlight, as it's naturally-fermented, aged ligero. The Alison and Little Bill have the extra intensity of an Ecuadorian wrapper that is velvety and perfumed. The Babe is wrapped with a delicate-flavored Costa Rican capa.
The La Palina richness in body lets you know it's well-made and well worth the price.  This is a celebration stick. Sit back and truly enjoy it…take your time…and it's perfect for the 25.
Then sip the Chivas again. Take in its fullness, richness and strong finish, which is nearly tart.
In this case, the cigar is the chaser, as the La Palina smoothes out the drink. You could almost say the La Palina cleans the aftertaste, or cleanses the palate, as ginger does for sushi.
This pairing commands importance. An engagement, a promotion, a bachelor party, or a rare reunion between grandfather and grandson. If you're helping create that moment for a select group of friends or family, this pairing will make you a star.
Please comment and tell us your perfect pairing!
Cheers, Brendan