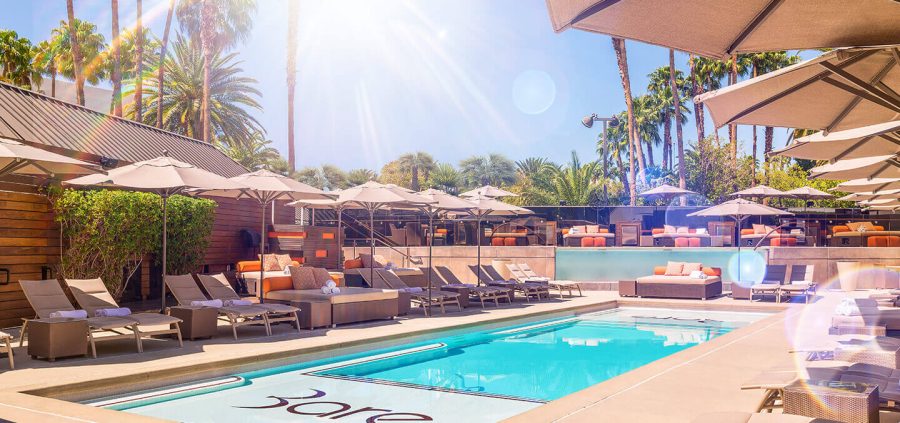 Bare Pool Lounge at The Mirage, European Style, Las Vegas
Address: Bare Pool Lounge is located at The Mirage Hotel and Casino, 3400 S Las Vegas Blvd, Las Vegas, NV 89109.
Hours of Operation: Bare Pool Lounge operates during the summer season from March to October. The lounge is open daily from 11:00 AM to 6:00 PM, weather permitting.
Contact Information:
Introduction: Bare Pool Lounge at The Mirage is a premier dayclub and adult-only pool destination in Las Vegas. Situated in the heart of the Strip, this sophisticated venue offers a relaxing and vibrant atmosphere where guests can enjoy topless sunbathing, soak up the sun, sip refreshing drinks, and indulge in a luxurious poolside experience.
Cabana Highlights: Bare Pool Lounge offers a range of exquisite cabanas, providing guests with an elevated level of comfort, privacy, and exclusivity. These cabanas are perfect for groups or individuals looking to enhance their pool experience. Here are some highlights:
Cabana Amenities: Each cabana at Bare Pool Lounge is thoughtfully designed to provide a luxurious experience. They are equipped with comfortable lounge seating, flat-screen TVs, refrigerators, and private bathrooms. The cabanas also come with a dedicated cabana host to ensure personalized service throughout the day.
Refreshing Pools: Bare Pool Lounge features multiple pristine pools surrounded by lush palm trees and beautiful landscaping. Guests can take a dip in the refreshing waters to escape the desert heat or relax on one of the comfortable poolside loungers.
Topless Sunbathing: Bare Pool Lounge is one of the few venues in Las Vegas that offers topless sunbathing. Guests can enjoy the freedom to soak up the sun and get an even tan while embracing the liberating atmosphere of the pool. It is important to note that the topless option is available only for adults 21 and over.
Gourmet Food and Beverage Service: Cabana guests can indulge in a delectable menu of gourmet dishes and handcrafted cocktails. The poolside servers are attentive and ready to cater to every need, ensuring a seamless dining experience.
Private Jacuzzi Cabanas: For an extra touch of luxury, Bare Pool Lounge offers exclusive private Jacuzzi cabanas. These cabanas feature a spacious private Jacuzzi where guests can unwind while enjoying the vibrant atmosphere and breathtaking views.
VIP Access: Cabana rentals include VIP access to the pool area, allowing guests to bypass the general admission lines and enjoy priority entry. This ensures a hassle-free experience, especially during peak hours.
Personalized Service: The dedicated cabana hosts at Bare Pool Lounge are trained professionals who prioritize guest satisfaction. They go above and beyond to cater to individual preferences, ensuring a memorable and tailored experience.
Poolside Entertainment: Bare Pool Lounge hosts a variety of live DJ performances and special events throughout the summer season. Guests can groove to the beats of popular music while enjoying the vibrant ambiance and lively poolside atmosphere.
Please note that the availability of cabanas may vary, and it is advisable to make reservations in advance to secure your preferred date and cabana type.
Whether you're seeking a relaxing day by the pool, topless sunbathing, or a lively party atmosphere, Bare Pool Lounge at The Mirage offers an exceptional and upscale poolside experience in the heart of Las Vegas. With luxurious cabanas, refreshing pools, gourmet dining, and attentive service, this dayclub is a top choice for those looking to unwind, embrace the freedom of topless sunbathing, and enjoy the ultimate poolside indulgence.