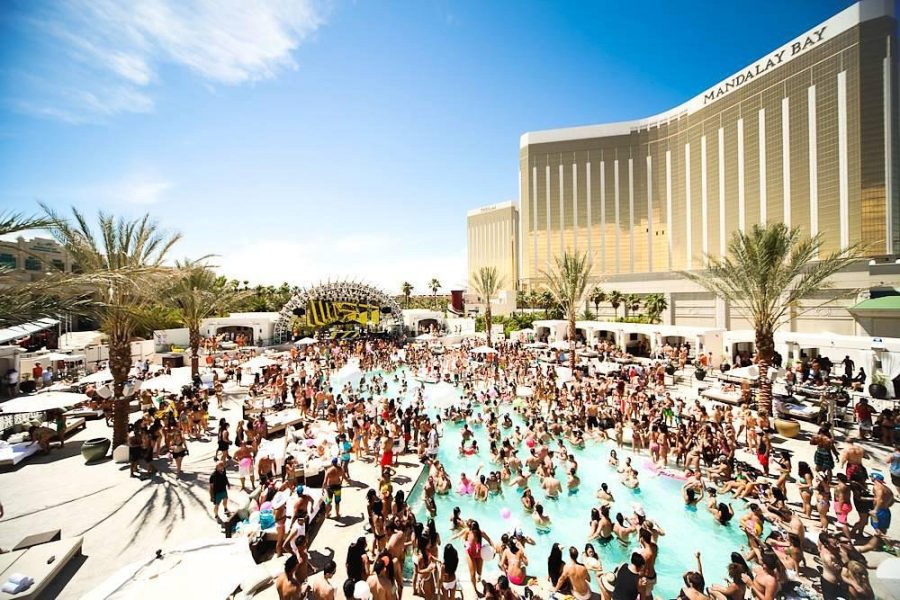 Daylight Beach Club at Mandalay Bay – Profile
Overview Daylight Beach Club is an exclusive outdoor oasis located at the Mandalay Bay Resort and Casino in Las Vegas, Nevada. As one of the premier dayclubs in the city, Daylight offers a unique combination of poolside relaxation, high-energy music, and a vibrant party atmosphere. With its luxurious amenities, world-class entertainment, and stunning views, Daylight Beach Club provides an unforgettable experience for locals and tourists alike.
Address and Contact Information
Address: 3950 S Las Vegas Blvd, Las Vegas, NV 89119
Phone: +1 (702) 632-4700
Website: daylightvegas.com
Hours of Operation Daylight Beach Club operates seasonally, typically from spring to fall, and its opening hours may vary based on the day of the week and special events. Here are the general operating hours:
Friday: 11:00 AM – 6:00 PM
Saturday: 11:00 AM – 6:00 PM
Sunday: 11:00 AM – 6:00 PM
Please note that these hours are subject to change, and it's always advisable to check the official website or contact the club directly for the most up-to-date information.
Atmosphere and Design Daylight Beach Club boasts a modern and stylish design that combines sleek architecture with elements of natural beauty. The venue features a sprawling outdoor pool surrounded by palm trees, lush landscaping, and comfortable lounge chairs. The vibrant and energetic ambiance is accentuated by state-of-the-art lighting and sound systems, creating a dynamic and immersive experience for guests.
Music and Entertainment Known for its exceptional lineup of world-class DJs and live performances, Daylight Beach Club offers an unrivaled entertainment experience. Renowned artists from various genres, including electronic dance music (EDM), hip-hop, and more, take the stage to keep the energy levels high and the crowd dancing throughout the day. The club also hosts special events, pool parties, and themed celebrations, adding to the excitement and variety of its entertainment offerings.
Cabana Highlights Daylight Beach Club offers luxurious cabanas that provide an elevated and private experience for guests seeking an extra level of comfort and exclusivity. Here are some highlights of the cabanas:
Spacious Accommodations: Each cabana is meticulously designed to offer ample space for relaxation and socializing. They are furnished with plush seating, daybeds, and a table for dining or enjoying drinks.
Personalized Service: Cabana guests receive personalized attention from a dedicated cabana host who ensures their needs are met throughout the day. From food and drink orders to general assistance, the staff is committed to delivering exceptional service.
Private Amenities: Cabanas are equipped with private amenities such as a flat-screen TV, mini-refrigerator stocked with beverages, and a safe for valuables. Some cabanas may also feature misters or ceiling fans to keep guests cool under the Las Vegas sun.
Premium Beverage Options: Along with the standard drink offerings available at the main bar, cabanas often include a premium bottle service menu with an extensive selection of spirits, champagne, and mixers. Guests can enjoy their favorite libations without leaving the comfort of their cabana.
Poolside Views: Cabanas are strategically positioned to provide optimal views of the pool and stage area. This ensures that guests have a front-row seat to the action while enjoying the privacy and exclusivity of their own space.
Conclusion Daylight Beach Club at Mandalay Bay offers an unforgettable pool party experience in the heart of Las Vegas. With its vibrant atmosphere, top-notch entertainment, and luxurious cabana offerings, Daylight attracts visitors seeking a high-energy daytime escape. Whether you're looking to relax by the pool or dance to the beats of renowned DJs, Daylight Beach Club delivers an exceptional and memorable experience for all.