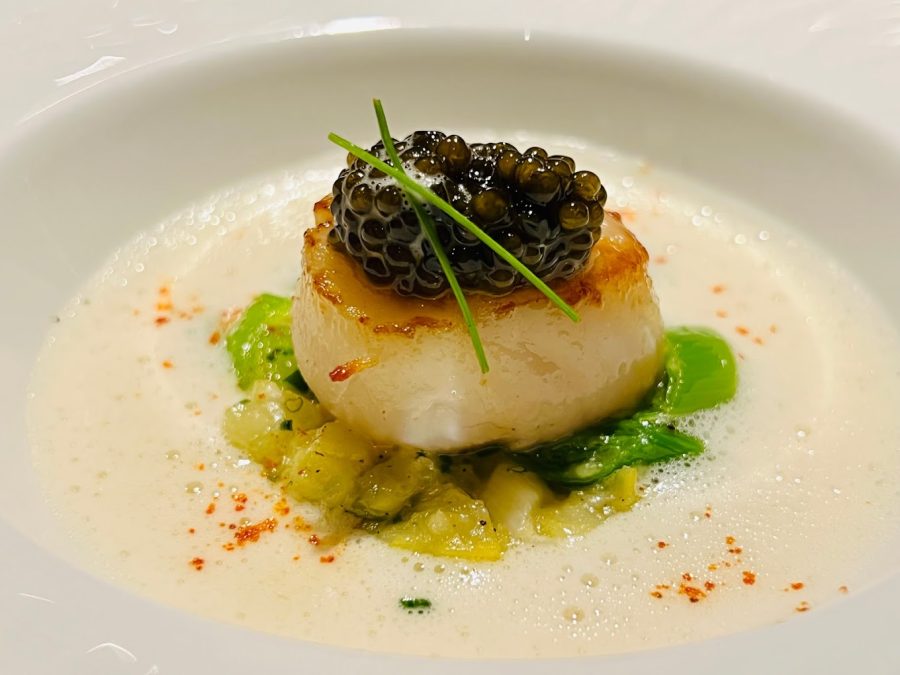 Overview: L'Atelier de Joël Robuchon is a prestigious and highly acclaimed French fine-dining restaurant located at the iconic MGM Grand in Las Vegas, Nevada. As one of the crown jewels in the culinary world, this establishment carries the legacy of its namesake, the legendary Chef Joël Robuchon, who was renowned for his innovative approach to French cuisine and held numerous Michelin stars throughout his illustrious career. The restaurant brings a unique experience of dining at a chef's workshop, with a vibrant open kitchen where patrons can witness the culinary mastery and precision of the chefs in action.
Address: MGM Grand Las Vegas 3799 S Las Vegas Blvd, Las Vegas, NV 89109, United States
Contact Information:
Phone: (702) 891-7358
Website: https://mgmgrand.mgmresorts.com/en/restaurants/latelier-joel-robuchon-french-restaurant.html
Hours of Operation: The restaurant operates with the following schedule, but it's always best to check the website or call ahead for any changes:
Monday: 5:30 PM – 10:30 PM
Tuesday: 5:30 PM – 10:30 PM
Wednesday: 5:30 PM – 10:30 PM
Thursday: 5:30 PM – 10:30 PM
Friday: 5:30 PM – 10:30 PM
Saturday: 5:30 PM – 10:30 PM
Sunday: 5:30 PM – 10:30 PM
Menu Highlights: L'Atelier de Joël Robuchon prides itself on its exceptional menu, curated with the finest ingredients and expertly crafted dishes that tantalize the palate. The restaurant's menu is divided into several sections, offering a delightful range of options for both connoisseurs and adventurous diners. Here are some highlights:
1. Le Menu Découverte: This tasting menu provides an opportunity to savor a selection of Chef Joël Robuchon's signature dishes. The menu changes seasonally, ensuring that guests experience the freshest and most inventive creations.
2. Le Caviar: Indulge in the exquisite taste of premium caviar served traditionally with blinis, crème fraîche, and other accompaniments. This dish showcases the restaurant's commitment to using the finest and most luxurious ingredients.
3. Le Foie Gras: L'Atelier de Joël Robuchon elevates foie gras to a culinary art form. Whether seared to perfection or prepared as a delicate terrine, this dish embodies the restaurant's dedication to French culinary traditions.
4. La Langoustine: Succulent langoustines are prepared in various styles, highlighting the seafood's natural sweetness and tenderness. These dishes demonstrate the skillful execution and attention to detail that define the restaurant's cuisine.
5. Le Cochon: The restaurant's take on pork presents a harmonious balance of flavors and textures, showcasing the culinary team's ability to transform this ingredient into a masterpiece.
6. Les Desserts: Indulge your sweet tooth with an array of delectable desserts, expertly crafted to provide a satisfying conclusion to the dining experience. From classic French pastries to inventive creations, the dessert selection at L'Atelier de Joël Robuchon is sure to impress.
7. Le Vin: The restaurant boasts an extensive wine list curated to complement the dishes perfectly. With a selection of fine wines from both France and around the world, guests can enjoy a sensory journey with every course.
Conclusion: L'Atelier de Joël Robuchon at the MGM Grand in Las Vegas is an unparalleled dining destination that upholds the legacy of one of the world's greatest culinary masters. The combination of a lively ambiance, exceptional service, and a menu that celebrates French gastronomy makes this restaurant a must-visit for food enthusiasts and gourmands alike.