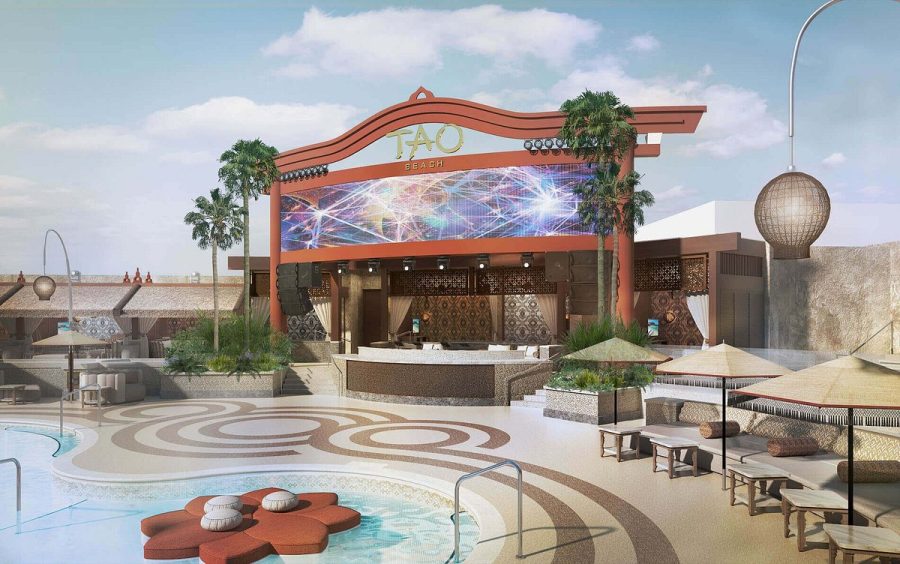 Tao Beach Club at Venetian in Las Vegas
Address: 3355 S Las Vegas Blvd, Las Vegas, NV 89109, United States
Contact Information:
Hours of Operation:
Monday to Thursday: 10:30 AM – 6:00 PM
Friday to Sunday: 10:00 AM – 6:00 PM
Overview: Tao Beach Club is an upscale day club located at The Venetian Resort in Las Vegas. It offers an exhilarating poolside experience combined with a vibrant atmosphere, top-notch service, and a breathtaking view of the Las Vegas Strip. This luxurious venue provides a perfect blend of relaxation and entertainment, making it a popular destination for locals and tourists alike.
Venue Highlights:
Stylish Pool Area: Tao Beach Club boasts an expansive pool area surrounded by beautiful palm trees, luxurious daybeds, and comfortable lounge chairs. The ambiance is stylish and modern, providing an inviting space for guests to unwind and soak up the sun.
VIP Cabanas: The club offers a selection of VIP cabanas, providing an elevated experience for those seeking exclusivity and privacy. Each cabana features a private infinity pool, a personal concierge, plush seating, a flat-screen TV, and a mini-fridge stocked with refreshing beverages.
Daybeds and Lounge Chairs: Guests who prefer a more casual experience can relax on the comfortable daybeds or lounge chairs scattered around the pool area. These spots offer a prime view of the pool and the lively atmosphere, allowing guests to socialize and enjoy the music.
Immersive Sound System: Tao Beach Club is known for its state-of-the-art sound system, which creates an immersive audio experience throughout the venue. The energetic beats and live DJ performances set the tone for a memorable day of fun and relaxation.
Delicious Food and Drinks: The club features a menu of delectable culinary offerings and refreshing cocktails. Guests can savor a variety of appetizers, salads, sandwiches, and sushi rolls prepared by talented chefs. The beverage menu includes signature cocktails, frozen drinks, champagne, and a wide selection of spirits.
Celebrity Sightings and Special Events: Tao Beach Club has become a hot spot for celebrity appearances and exclusive events. Throughout the year, the club hosts pool parties, themed events, and performances by renowned DJs and artists, adding an extra element of excitement to the experience.
Private Events: The venue is available for private events, allowing guests to celebrate special occasions in style. Whether it's a birthday party, bachelor/bachelorette party, or corporate gathering, Tao Beach Club offers tailored packages and exceptional service to create unforgettable moments.
Additional Information:
The club strictly enforces a dress code, so guests are encouraged to dress stylishly and avoid athletic wear or flip-flops.
Guests must be at least 21 years old to enter the club and provide a valid ID upon arrival.
Tao Beach Club offers bottle service options for those seeking a more exclusive experience, allowing guests to enjoy dedicated seating and personalized attention from the staff.
Tao Beach Club at Venetian in Las Vegas is the perfect destination for individuals looking to enjoy a luxurious and lively poolside experience. With its stunning setting, attentive service, and vibrant atmosphere, it has established itself as one of the premier day clubs on the Las Vegas Strip.